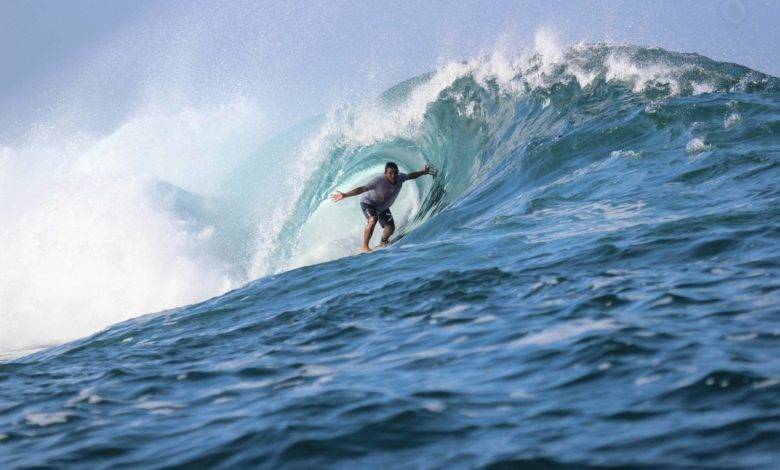 Komang was just coming out of an overhead barrel peeling onto the barely covered reef of Lakey Peak, when David (Indo Eye) screamed at him "Hey Komang! Why you take such small barrels?!"
Still dazed by the near-death wave Komang just went out of, he looked at David not knowing if he was serious or joking and after a few seconds laughed at him "Fuck off! Fuck off Bro!" while paddling back to the peak.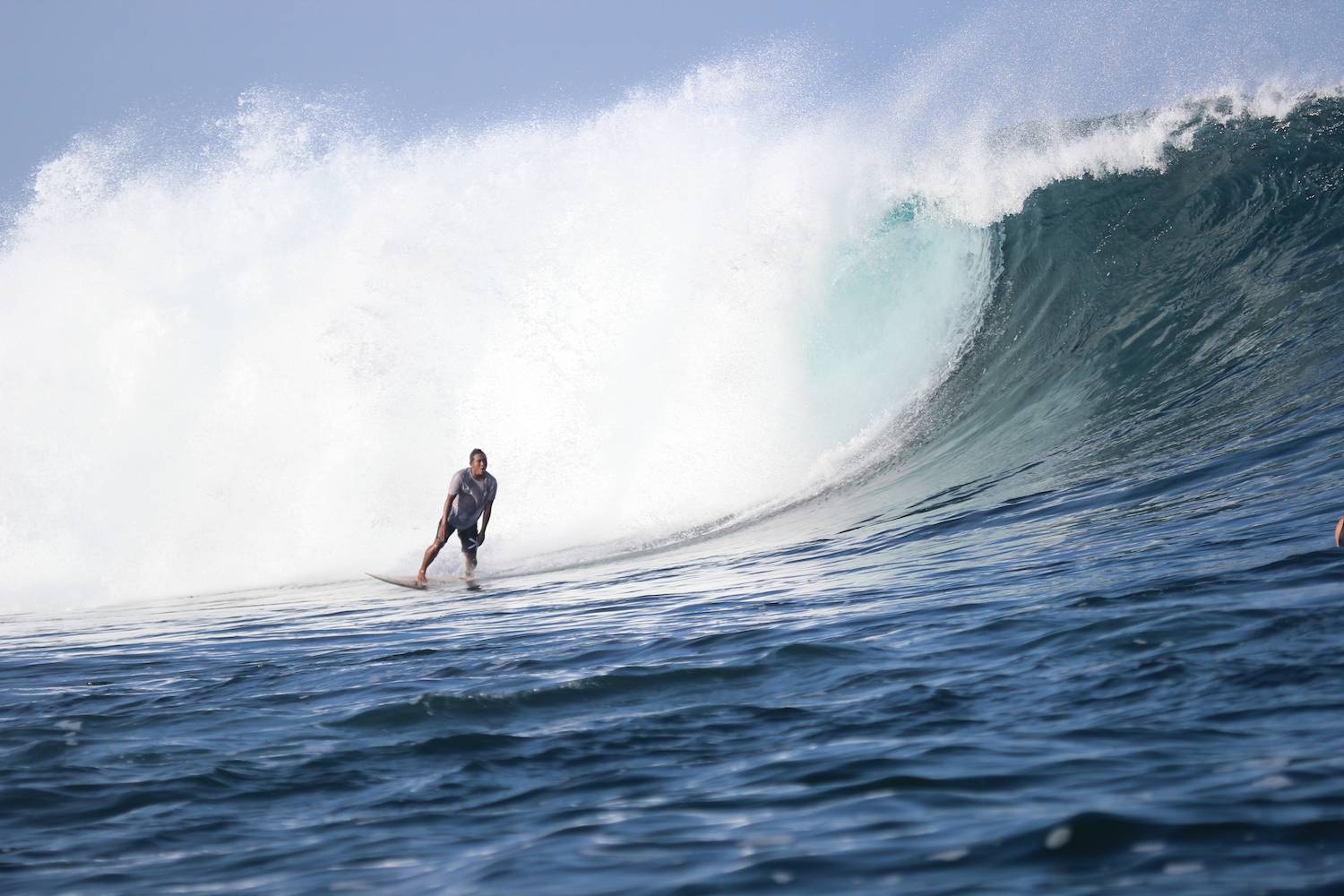 Pushing Komang to his limits must have worked since he pulled into the biggest wave of the next set, stretching his arms to the sky while being fully covered into a double overhead perfect barrel. Meanwhile, Indo Eye went the nearest he could to the tube exit, dove under the wave at the last second and got the shot we were all waiting for.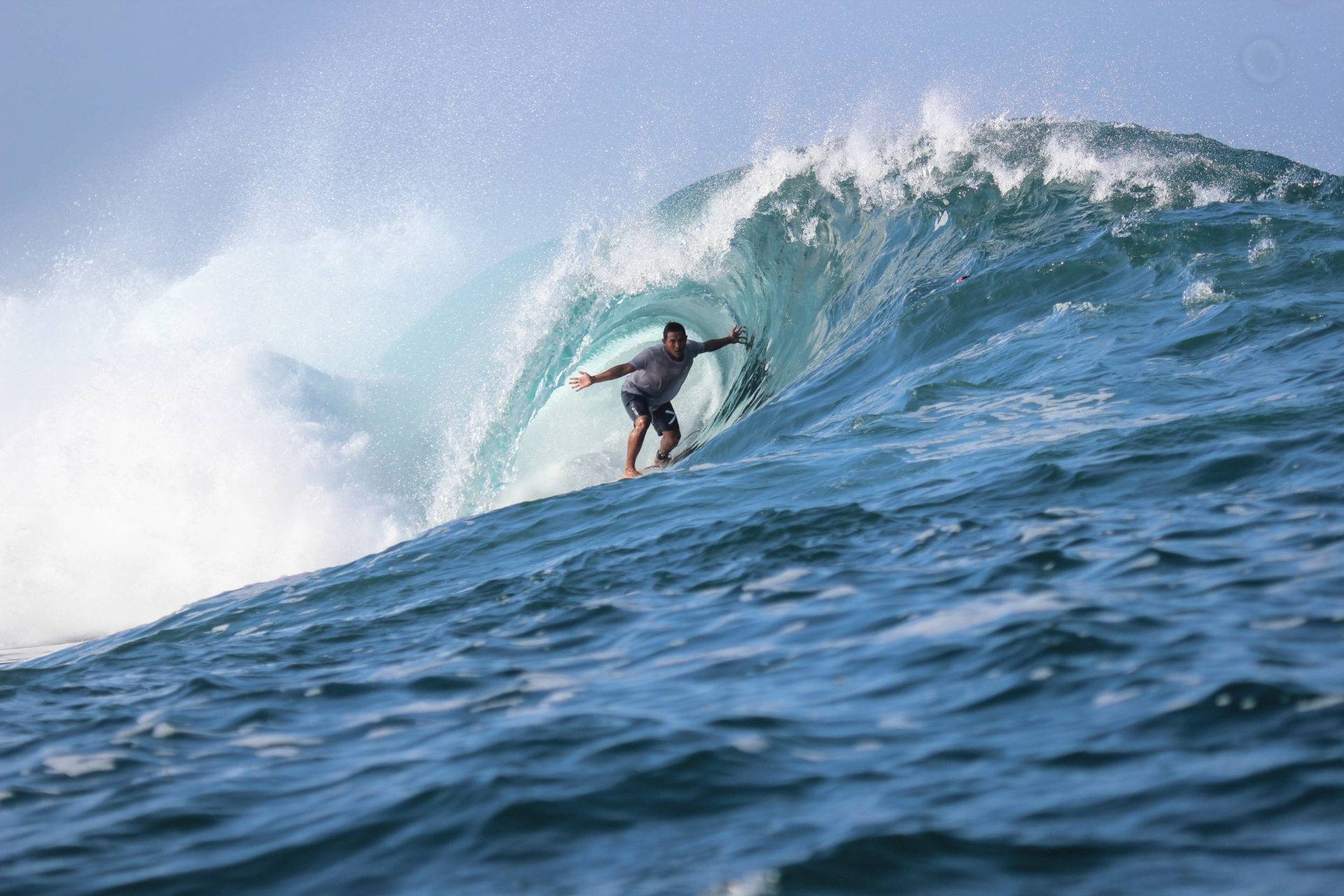 Bringing the Medewi boy to Lakey Peak, Sumbawa
Before this trip, Komang only had left Bali two times in his life – once to Lombok (Bali's neighbouring island), another time to East Java – just a few hours drive from Medewi, where he is from. For this same reason, Komang was so stoked getting out of Bali, experiencing a new culture and scoring new waves. His excitement will surely be remembered by all the people we met in Lakey and will be missed in its line-up.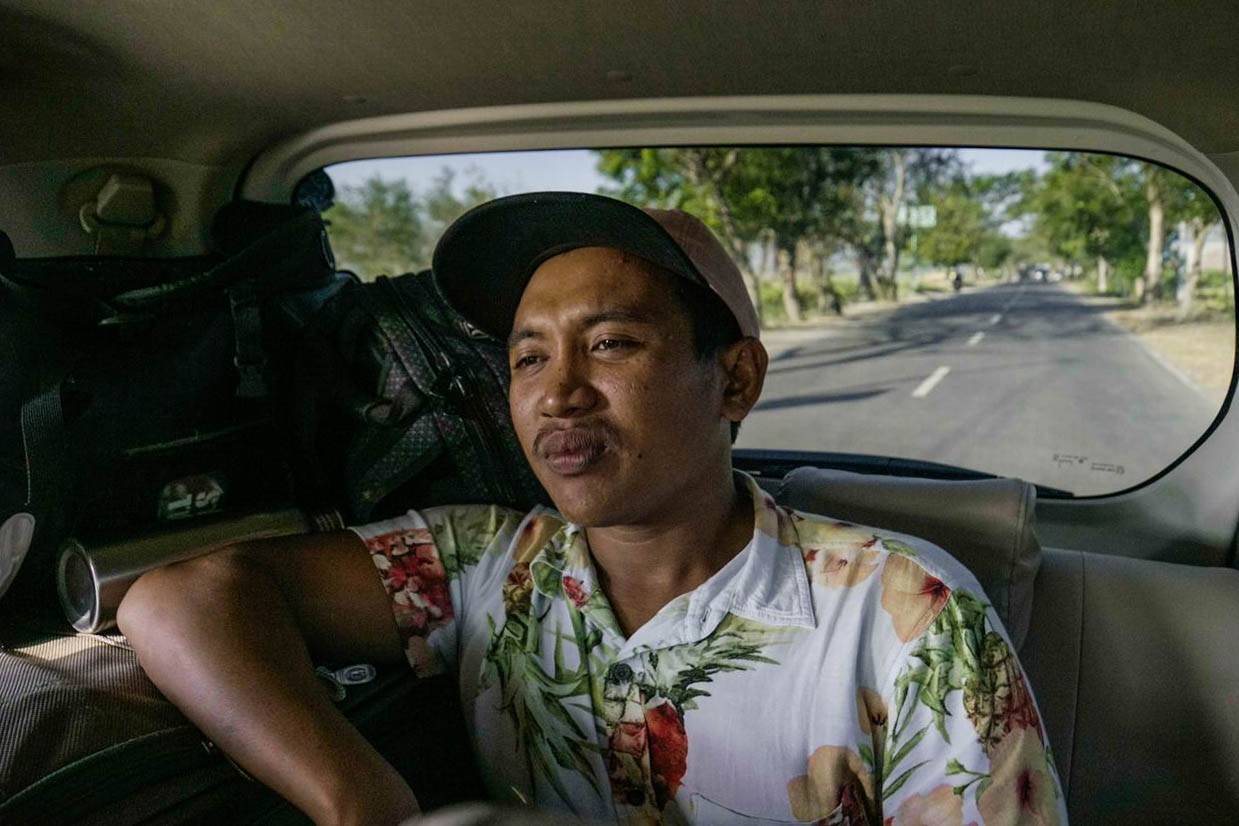 Komang is now 22 years-old, he surfed since he was a kid, learning how to on a piece of wood he collected from an old fishermen boat. In his young age, Komang and his friends managed to fix a snapped board they found on a beach, using a fisherman's rope as a leash and sticking fins with resin. On a very special day, he got offered a board by a Californian tourist. This same board made him win his first surf contest "Medewi board-riders" back in 2008 – he earned a brand-new board but his dad didn't want him to surf and sold both of his boards. Komang kept surfing fixed snapped board for most of his teenagers years and kept winning surf-contest while his dad kept selling his boards so he could afford the school.
His outgoing personality and passion for the ocean combined to a strict Balinese education made of Komang who is today. The most grateful human on earth, stoked for life, generous, humble and spreads his positive energy everywhere he goes while free-surfing.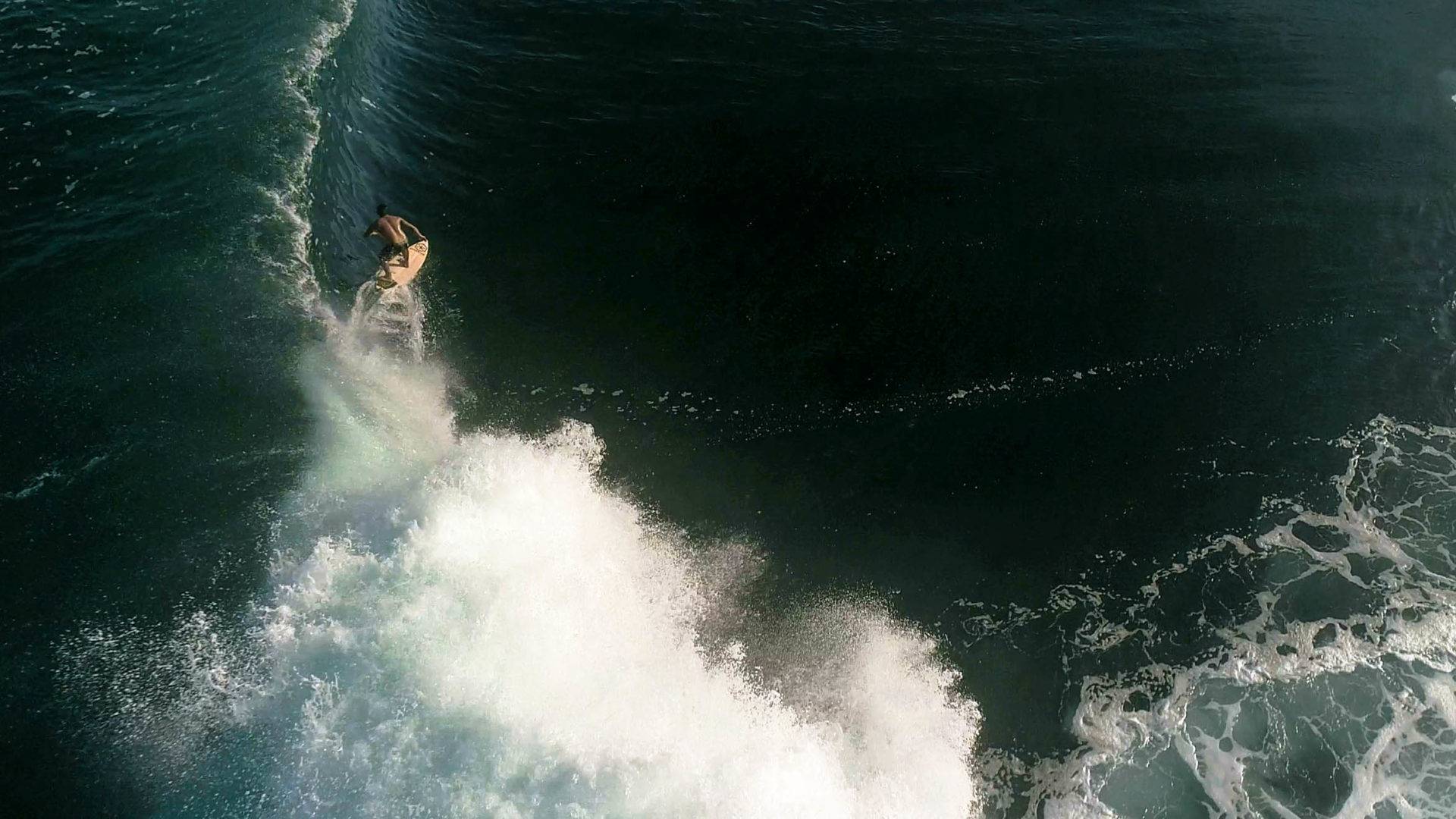 Swell, cameras, Sponsor – everything was lined up for Komang's dream to become true. 
Indo Eye and I were just coming back from Rote and craving for another surf-trip away from the crowded line-ups of Bali. We checked the swell forecasts. A 7 to 9-ft pulse @17-sec was making its way to Indo, this swell was supposed to last over 3-days, perfect!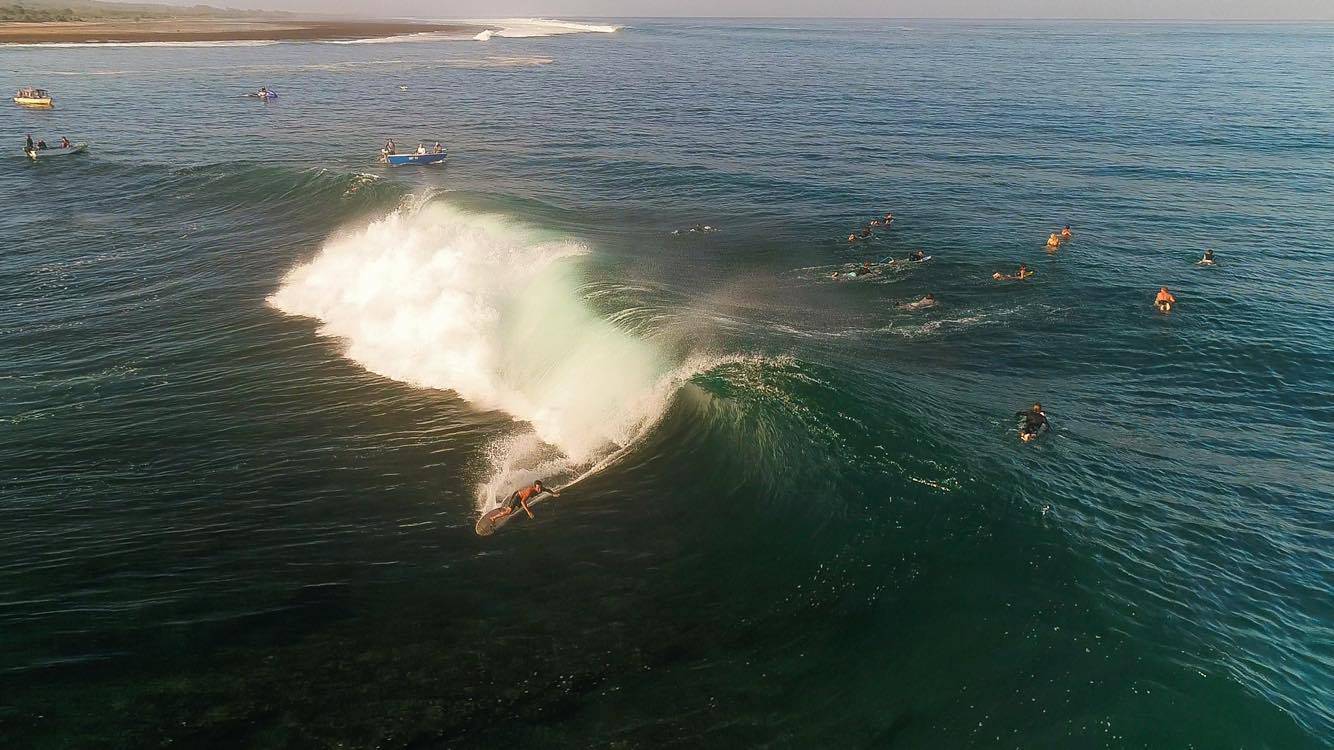 What about Komang? We need to bring the local boy too. Luckily, hanging out at BGS Surf Shop helps to make good connections. In the same day, we gathered 2 sponsors (Ekumenik clothing & Sunova Surfboards) while a new surf-resort in Lakey Peak welcomed us for the trip. Two days later, we were sharing the line-up with Stephanie Gilmore and other hardcore surfers.
Surfing Lakey Peak with the Clone from Sunova Surfboards
Komang packed the right set of boards for Lakey – different sizes of the high-performance Clone model but the 5.8 is the one that performed best. Lakey Peak's left hander offers a variety of surfing maneuvers from lip-smacking to radical turns in hollow sections to stand-up barrels when over 6-feet. We needed a board that would work well on that wave and won't break when it gets heavy – Sunova boards, shaped by Bert Burger (shaper of the year in 2007 while at Firewire) are known for being amongst the most solid and it was proved during the trip.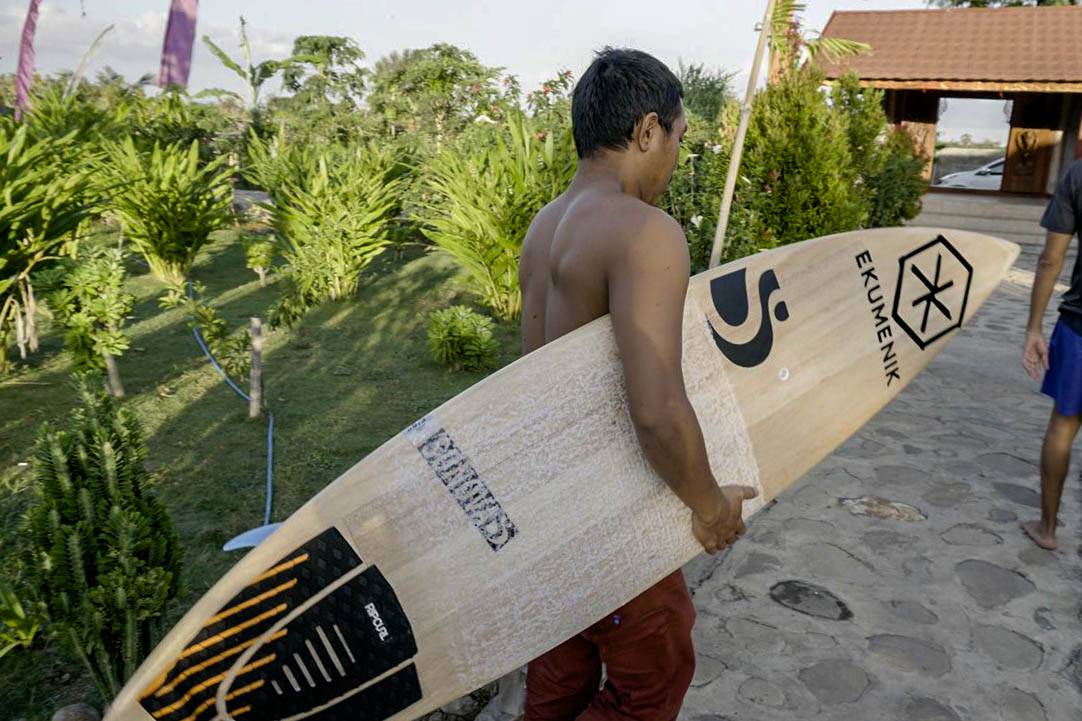 The Clone originated from one of Taj's favorite surfboard. Bertt Burger & Sunova added into it a hint of modern technology, amongst them parabolic stringer and a vent to let pass the air avoiding high pressure on the board. Least but not last, the board can bend and gives a feeling of being projected on each turn. Read more about it on Sunova's website, it is actually very interesting even if you are not a pro-surfer.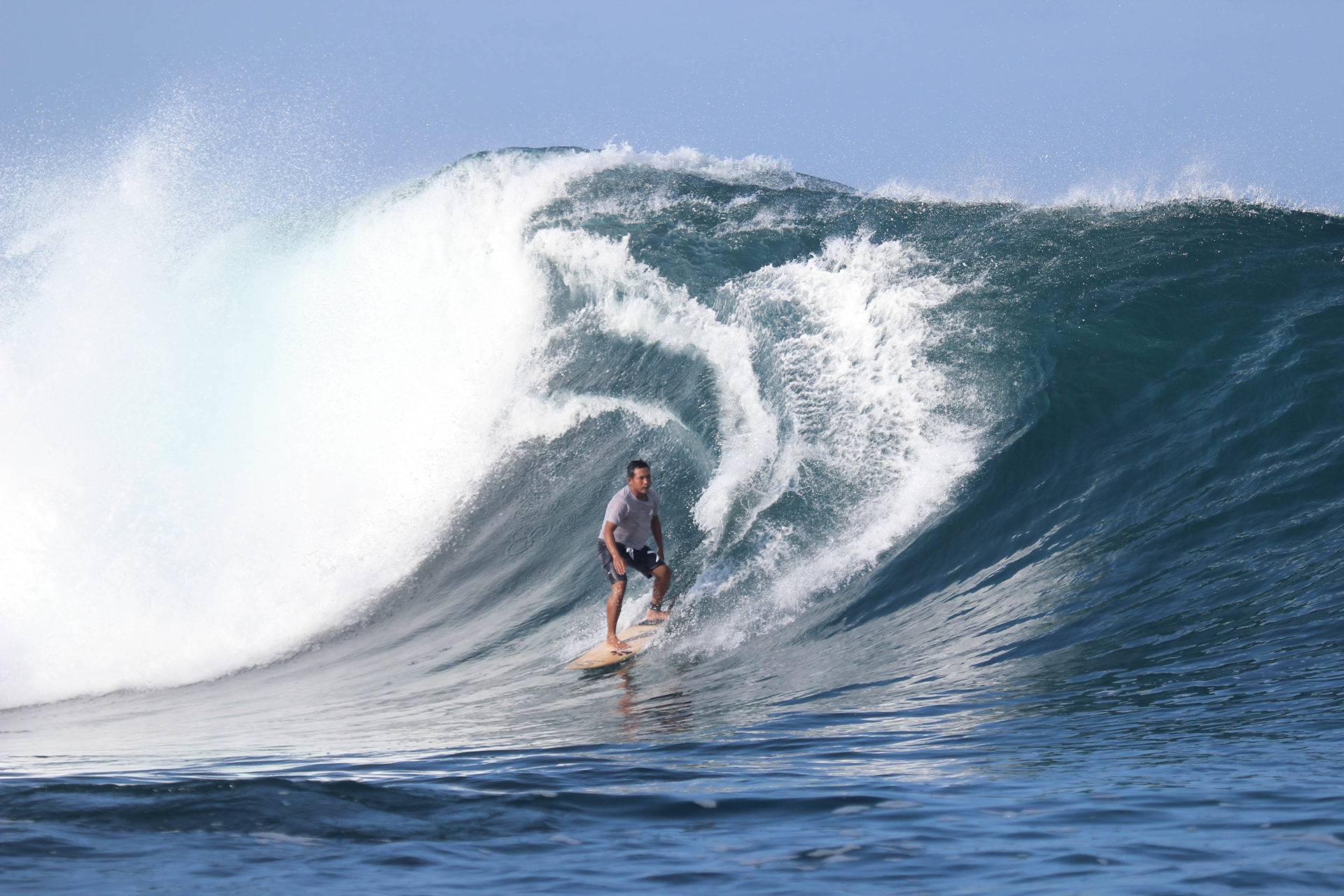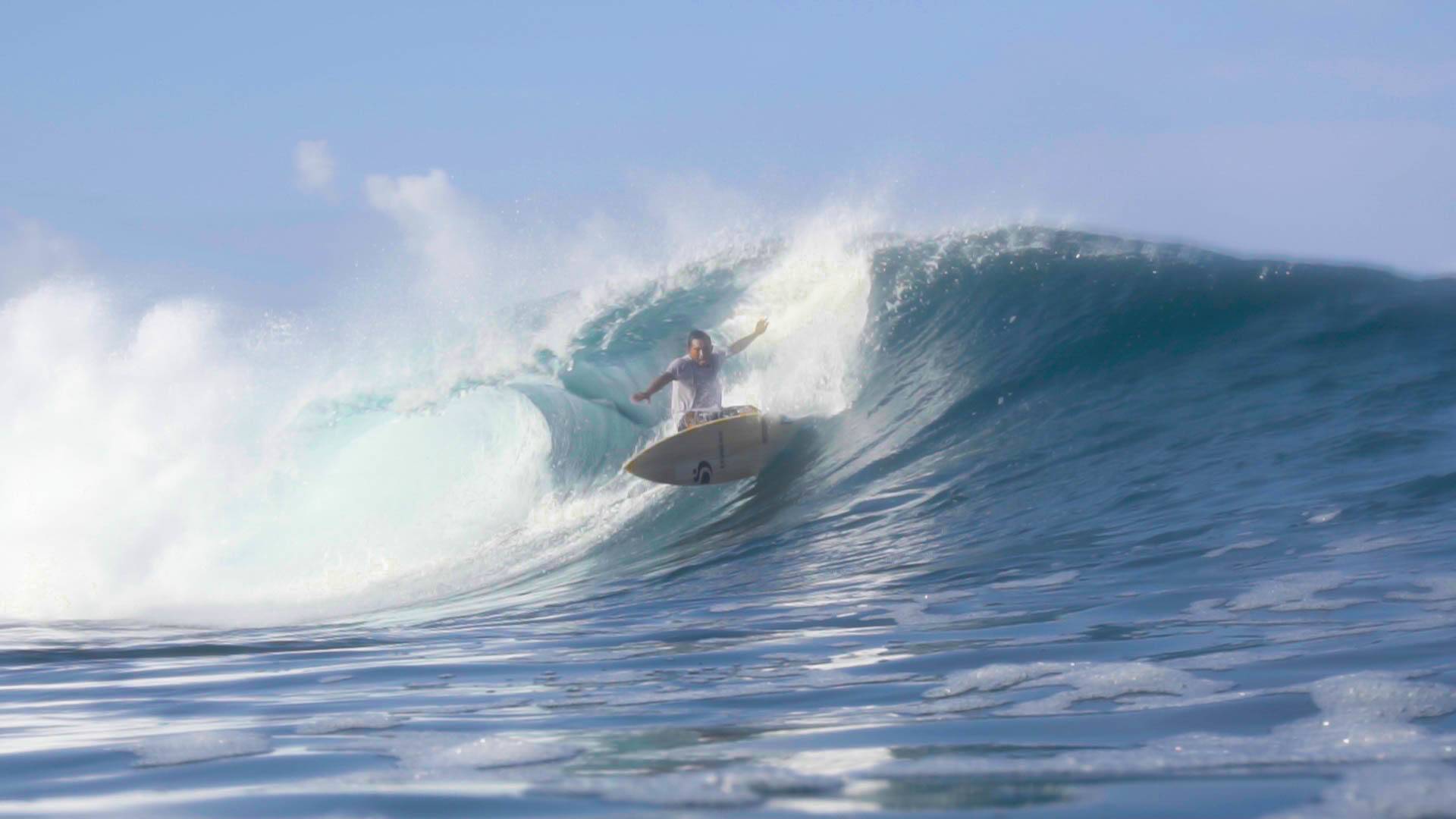 Where to stay when in Lakey Peak?
The vibe at Lakey Peak is known to be heavy, especially at the airport where porters won't let you leave until you've paid them a tip, even though you never asked for a porter. Staying in a losmen by the beach is fine but if you want to avoid being hassled and have a comfy stay then Lakey Peak Haven is the place.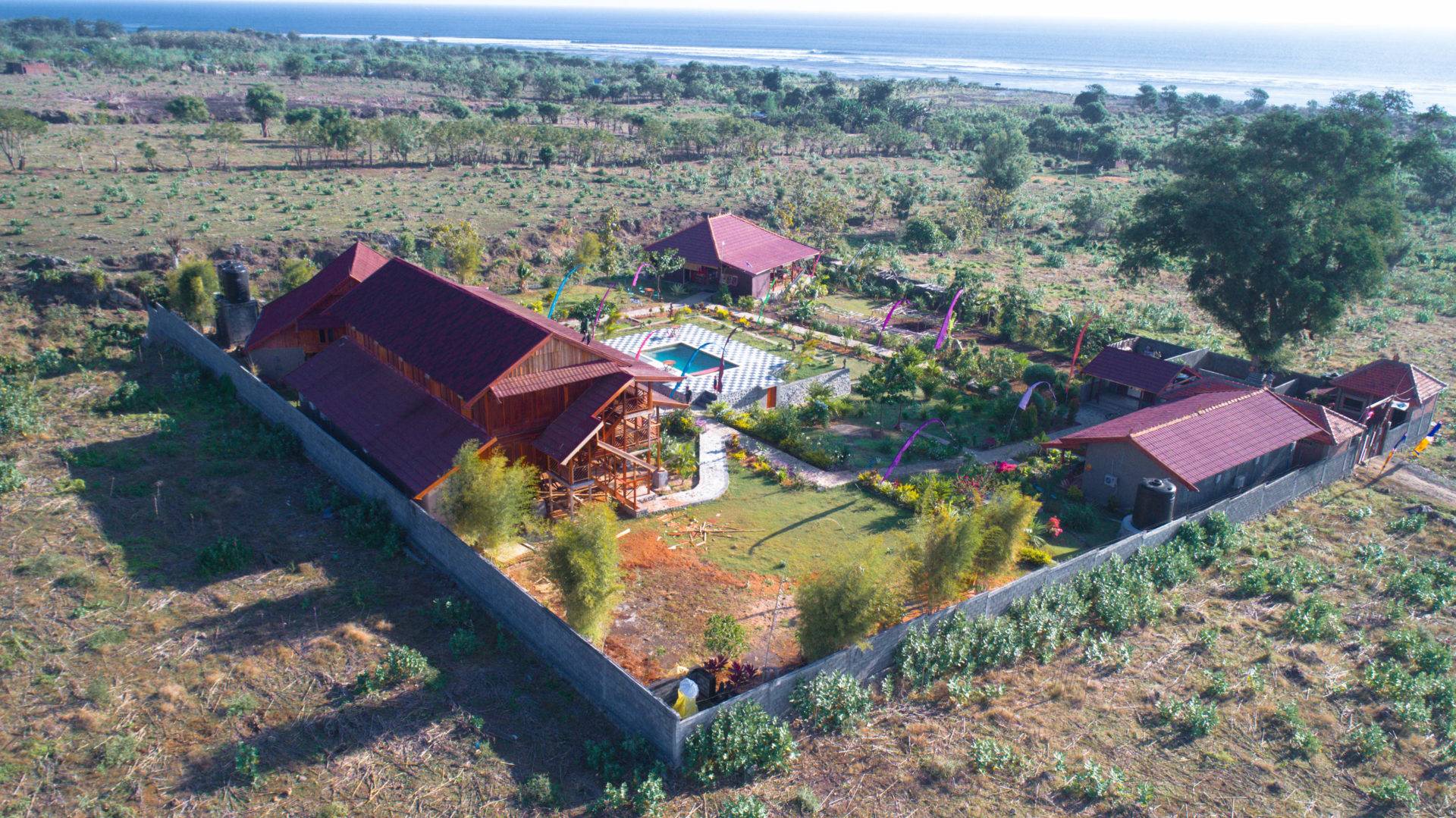 Welcoming cocktails, surf movies and kids playing in the common area already left behind us the weird feeling we encountered at the airport. Made and Michael, the owners of Lakey Peak Haven, arranged us a car that we rented for the whole trip – it is almost impossible doing that elsewhere and was a must for us to pack up all our gear! 
We stayed in a freshly built wooden style house "Surf Shacks" with epic view on the whole bay and surf-breaks. Check it out and ask for specials as they opened recently!
Where to surf around Lakey Peak?
Although The Peak is the most consistent break, it may seem too competitive and crowded to some. A five-minutes ride away lies the rippable left-hander of Nunggas peeling for over hundred meters and will satisfy your surf cravings while offering a more mellow approach. Ten minutes further north, after taking a bumpy road, you'll find Periscopes – a world class right-hander that only breaks on high tide as long as there are no on-shore winds. High-performance riders might also opt for the back door left-handed barrel at Lakey Pipe, breaking on a gnarly reef. And still some secrets to be explored!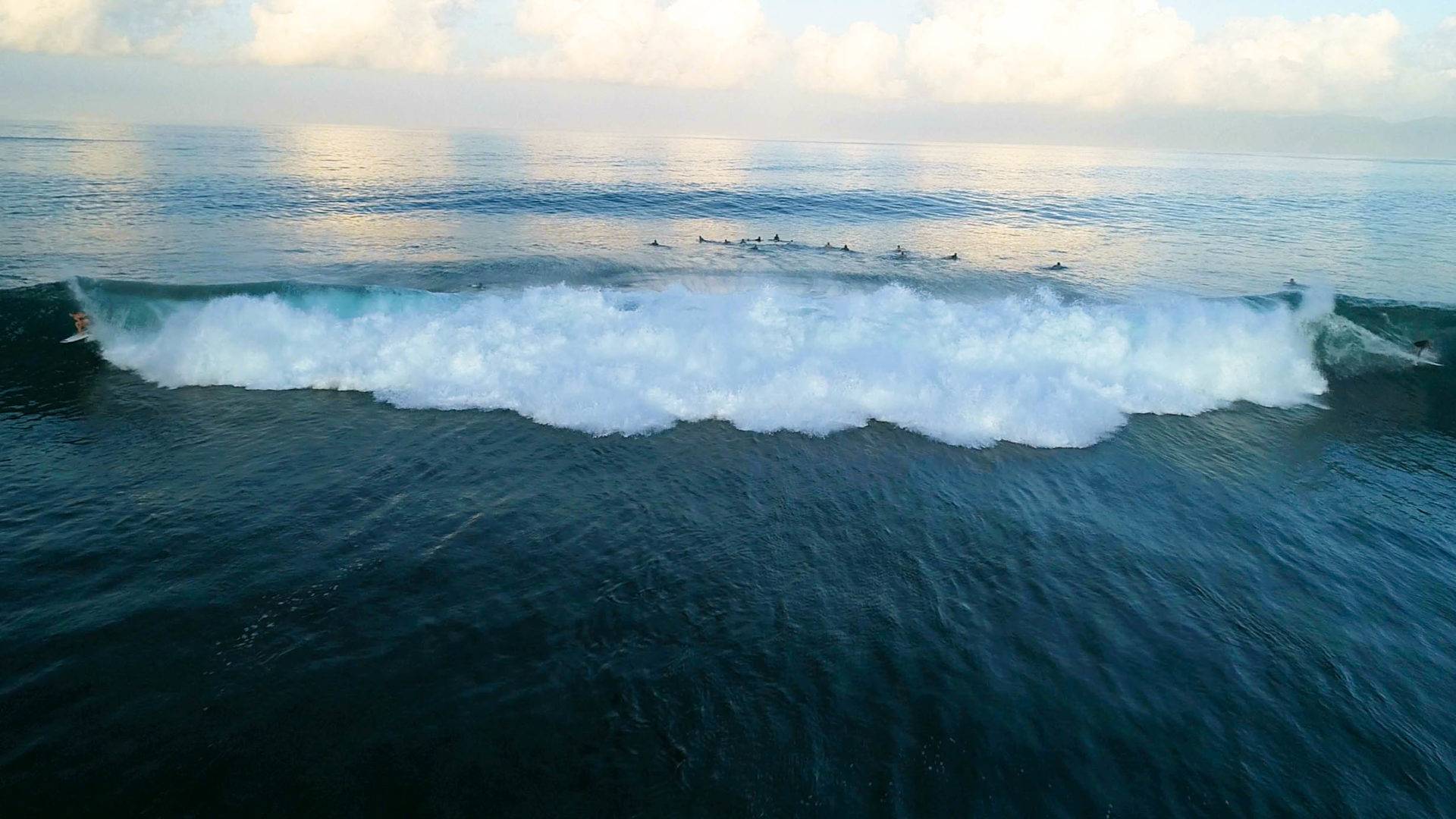 In the meantime, feel free to drop by BGS Surf Shop where Komang will be delighted to serve you the best coffee to be found in the Bukit and give you valuable surf tips for your travels in Indo.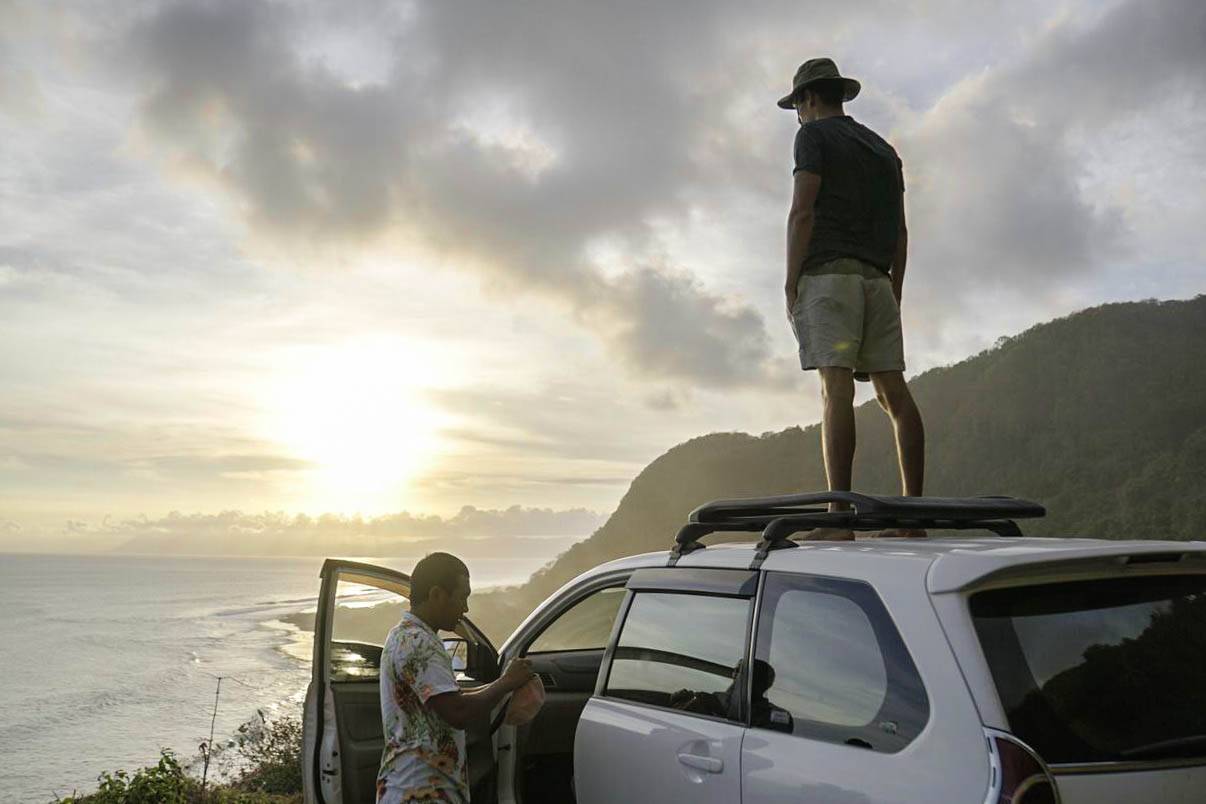 By Uriel @IndoSurfCrew