- Nusa Tenggara Barat (Secret Spot), Indonesia -
May 31 - 7, 2023

Booked X

September 27 - 4, 2023

Spots Left: 5

October 10 - 17, 2023

Spots Left: 1

March 30 - 6, 2024

Spots Left: 7
8 days of longboard coaching in remote turquoise waters of Indo
Video analysis & land drills for all levels
Yoga and meditation
A full body and mind reset
Join us for an 8 day all inclusive week of salty fun in the sun, new skills, relaxation, and epic empty waves at a beautiful beachfront retreat nestled in a pristine turquoise bay of Indonesia. Our intention with Cosmic Cross Step is to provide guests with a mind, body, soul reset, new skills to take home with them, and a deeper appreciation for the ocean and the natural world. We hope you'll join us :)
This surfing program is designed for:
All Levels
Never surfed? Gnarliest tube rider around? These experiences are designed to provide value for everyone.
The listed surf level is the suggested experience level for this retreat.
If you are not sure if this retreat is the right one for you, please fill out the form below with a note, or simply contact us.
 Improve your surf with Cosmic Cross-Step!
This retreat is designed for surfers who are looking to improve their longboarding skills. *must be able to catch own waves*
At Cosmic Cross Step we guests gain new skills and confidence on a longboard and have fun doing it! We will review the foundations of longboarding and move through each day building new skills while getting more comfortable with the rhythm of the ocean. Our smiling and talented coach will lead surf theory lessons on land and in the water as well as video analysis discussions. We believe video analysis is one of the best ways to truly build new habits in the surf. Topics you can expect to learn include: where to position yourself on the board, proper paddling technique, how to maneuver through the waves, where to position yourself on the wave, and other useful tricks. Based on your goals and where you're at in your surfing journey, our coach will help you with turning, cross stepping, noseriding, and more! 
A lot of growth that happens in the water comes from practice on land. One of our other favorite things to share is the power of land drills, especially when it comes to building deeper body awareness in the water. 
In the water you can expect the surf coach and local guides to help you catch waves, maximize performance on the wave, choose the best wave, and know what to do when the wave has finished.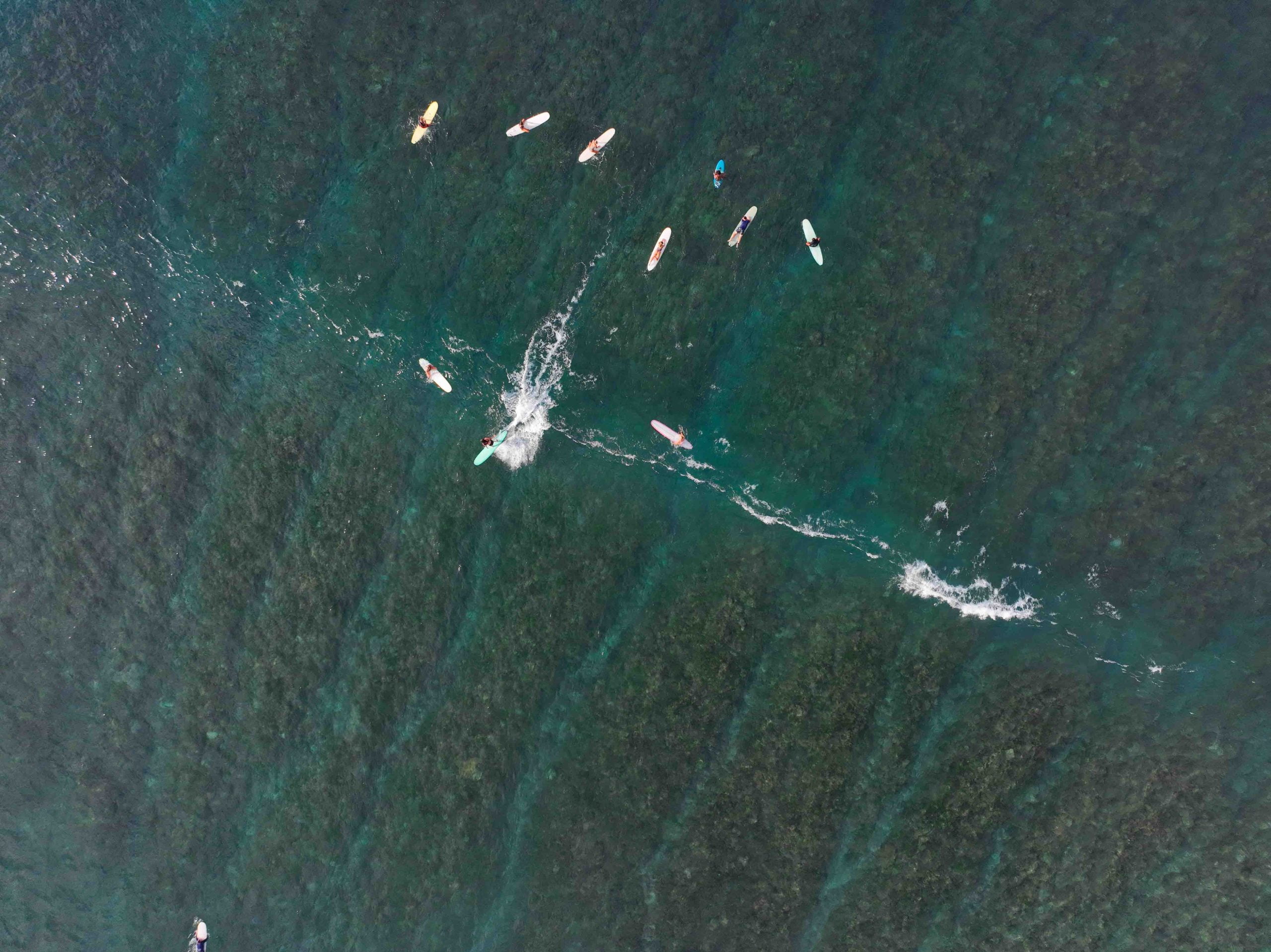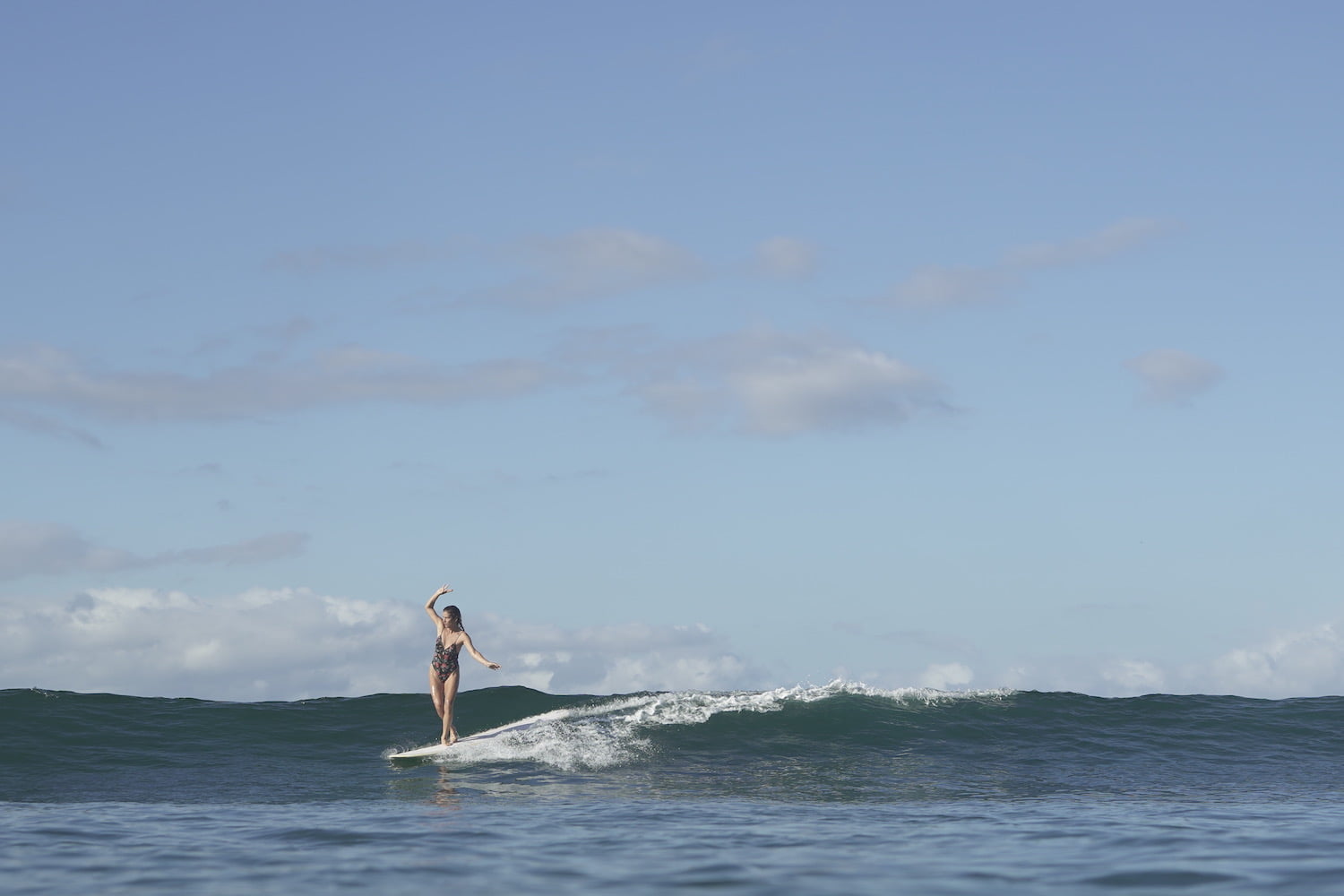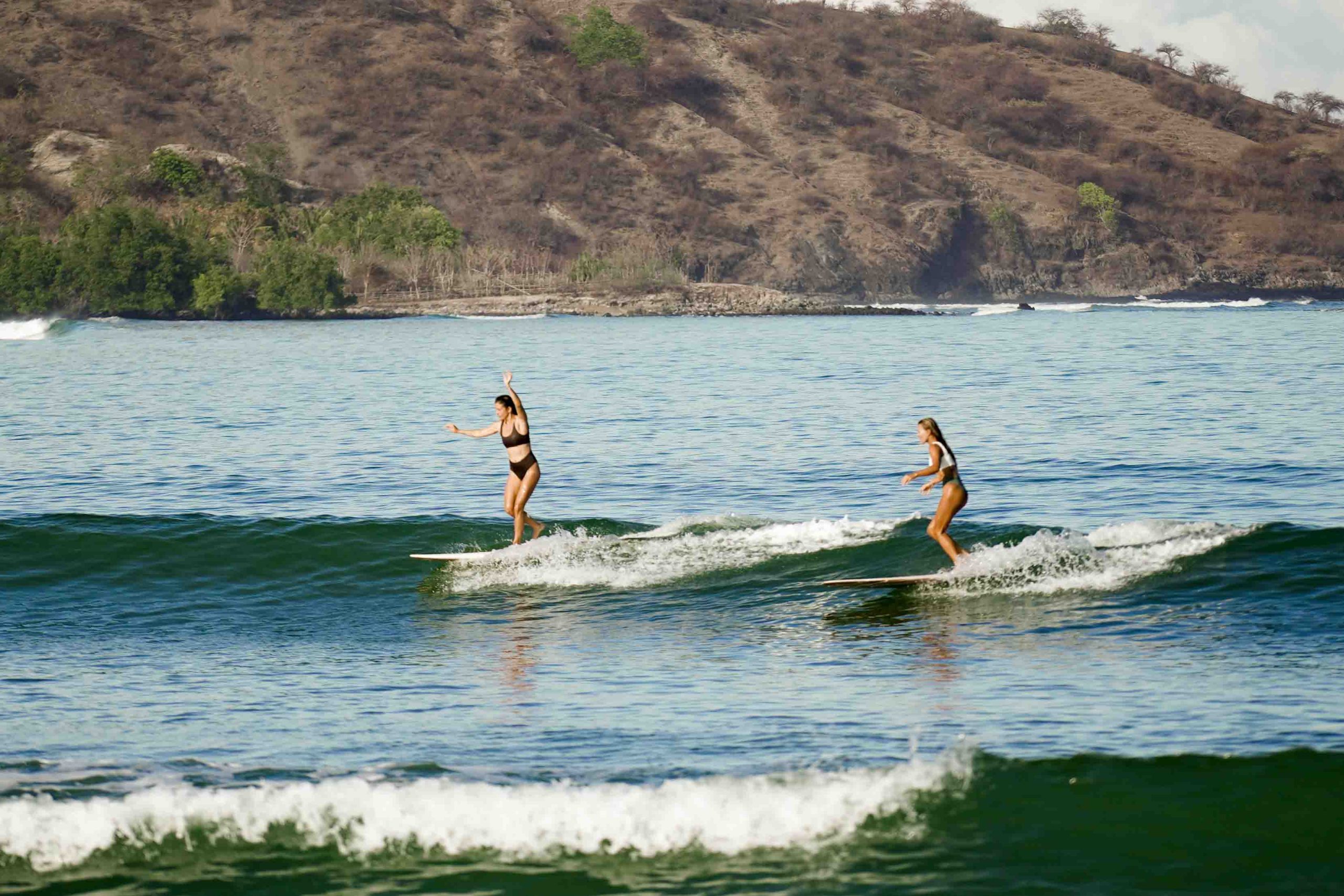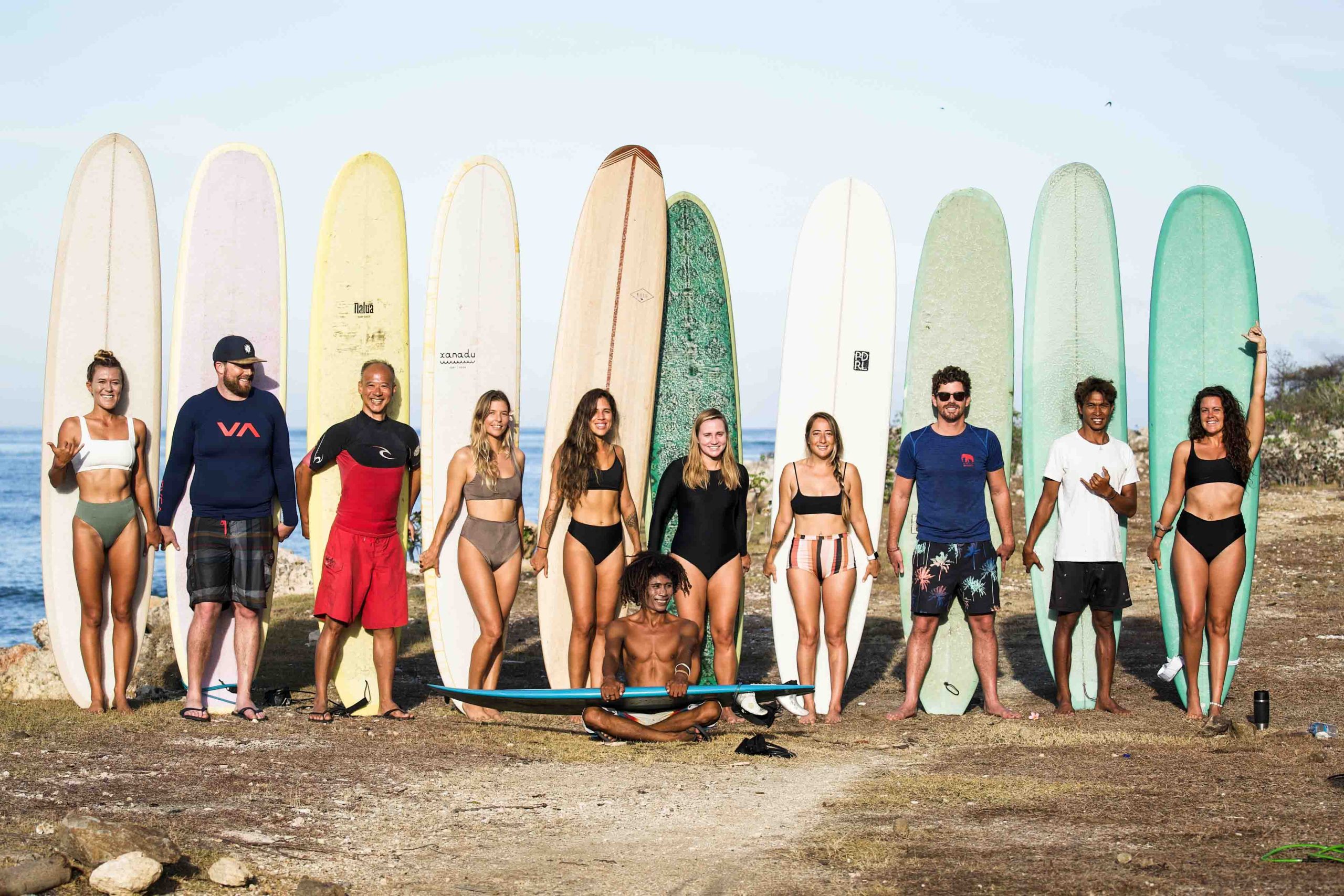 Experience the power of video analysis
While surfing, we will be shooting professional photos and videos to be used for video analysis and as souvenirs from the trip. Throughout the week, we will provide 5 analysis sessions of each surfer in the group. In these sessions, the coach will break down the waves and highlight areas that were done well, where adjustments can be made, and specific tips to help surfers work towards their goal. We believe watching yourself is one of THE best ways to progress in the water. You are able to see with your own eyes what you're doing and how you can do it even better!
Unwind and recalibrate your mind, body, & soul
At Cosmic Cross Step we recognize the interconnectedness of all things. This means that our time in the water can only be enhanced if we are also aligned in our mind, body, and spirit. We believe in the power of stillness and time in nature to help bring people back to their center, find clarity, quiet their busy mind, and feel good overall. 
To balance out the yang energy of surfing and assist in your journey back to the body, we will include daily meditation and yoga sessions that complement the body's needs. Depending on the tides, we will lead an energizing flow in the mornings to open up the body and prepare it for the surf and in the afternoons, a restorative yin class to allow for a deep space of rest, relaxation, and unwinding; one of the best gifts we can give ourselves. In addition to improving your surf skills we hope you will also leave with a calm, healthy, and happy soul.
Integrate with the local community
At Cosmic Cross Step we believe in the importance of leaving a place better than we found it and respecting the local communities around us. We aim to do our part to give back through beach clean ups, waste management education, gifting school supplies, or whatever else the nearby communities need. We are mindful when choosing the resorts we stay at and people we work with, questioning how they support the communities around them, where their food comes from, and more. We are visitors to these lands and are here to learn and give, rather than just take.
What you'll experience at Cosmic Cross-Step:
STAY 7 nights at a quiet and remote beachfront resort nestled amongst coconut trees steps away from the sea

EAT 3 delicious meals daily to fuel you in between surf sessions (vegetarian options available) 

SURF a variety of empty and fun longboard friendly waves

LEARN advanced surf techniques from an experienced and passionate surf coach through video analysis and land drills

RELAX the body and mind through daily yoga and mindfulness practices

TAKE HOME professional beautiful photography of yourself surfing

GIVE BACK to the surrounding communities

CONNECT with inspiring and like minded people
Limited spots available – join now!
Reserve Your Spot!
The Crew
Akaa

We are stoked to be working with the Indonesian legend, Akaa! Born in Java, living in Bali, Akaa is a highly experienced surfer and well respected instructor. He has been teaching for years in an accredited surf school in Bali before creating his own dream: Dawn Patrol Bali. He is motivated by and passionate about sharing his knowledge and experience with everyone who wants to learn how to surf while they have as much fun as possible! From cross-stepping to nose riding, he does it all with style and grace. His friendly smile and easy going energy will leave you feeling inspired and at ease in and out of the water and we can't wait for you to meet him!

Melisa

Born and raised in Huntington Beach, California aka Surf City USA, Melisa has been surrounded by surfing and the ocean her entire life. She only picked up the art of surfing more seriously in her adult life but it quickly became her greatest teacher. That and yoga have together shaped her into the person she is today. Constantly being reminded to slow down, flow with the rhythms of life, and trust. Living in Bali the last 2 and a half years throughout the pandemic she was able to dedicate much of her time and energy to her yoga practice and progressing her surf skills. This dedication has led her to now being in a place to share these gifts with the world. She could not be more excited to be able to share the gift of ultimate presence and connection to those who join these retreats. Yoga and meditation have been incredible tools to help her come back to stillness, balance, and clarity in her own life and she is honored to share the wisdom of these ancient teachings; the perfect balance to the yang and stimulating world of surf. Melisa is also co-producer of the new surf documentary, Surfers Dharma.
Join Our Crew!
Accommodations
Secret Location
This secluded spot amongst the coconut trees is a perfect place to escape the hustle and bustle of daily life and fully embrace the simple island life. You will find peace and relaxation amongst the untouched nature, white sandy beaches, lush green forests, and stunning views of uninhabited islands. It is a place to feel at home, reconnect with nature, enjoy tranquility, surf secret empty world-class waves, and experience the culture of welcoming local Indonesians in their nearby traditional fishing village.
What To Expect During Your Stay :
Enjoy waking up to the sights and sounds of the waves from your private room.
-10 private rooms available with ensuite bathrooms
- Air conditioning & WiFi
- Outdoor skate park, volleyball court, exercise area
Secure Your Space
What's included 
Daily surf coaching (land drills + in-water)

Daily yoga + meditation sessions

Individual video analysis 

Take home professional surf photography package (all photos + videos from your trip)

3x meals / day (and clean drinking water)

7 nights accommodation 

Local surf guide knowledge and boat rides to surf spots *dependent upon conditions*

Surfboard rental

Airport pick-up/drop-off 

Opportunity to give back!
What's not included 
Travel costs to and from domestic airport

Alcoholic Beverages

Travel insurance
Prices

| | | |
| --- | --- | --- |
| | Early Bird (until 30-OCT 2023) | Regular Ticket |
| 2023 | SOLD OUT | US$ 2700 |
| 2024 | US$ 2500 | US$ 2700 |
Dates & Itinerary

We will pick up guests from the airport (a 1-hour flight from the international airport in Bali) on the morning. Location details will be shared upon booking.
Have questions? Ask away!
Example schedule on a Cosmic Cross-step retreat (dependent on tides/swell):
7:00am: Sunrise yoga + meditation
8:00am: Light snack of fresh fruit/ coffee
8:30am: Morning surf session
11:00am: Breakfast 
12:00am: Free time (rest, free surf, chill)
1pm: Lunch
2pm: Video Analysis / Land Drills (4 days)
4:30pm: Restorative yin yoga (3 days)
7:00pm: Dinner
Cosmic cross-step retreats are all about moving in harmony with the elements and the rhythms of our natural world while reconnecting with our own inner world. We created this retreat to offer our guests a transformative experience both in and out of the water with the intention to provide a week of growth, learning, and joy to those who join us!
Limited Space, Reserve Your Spot Now!