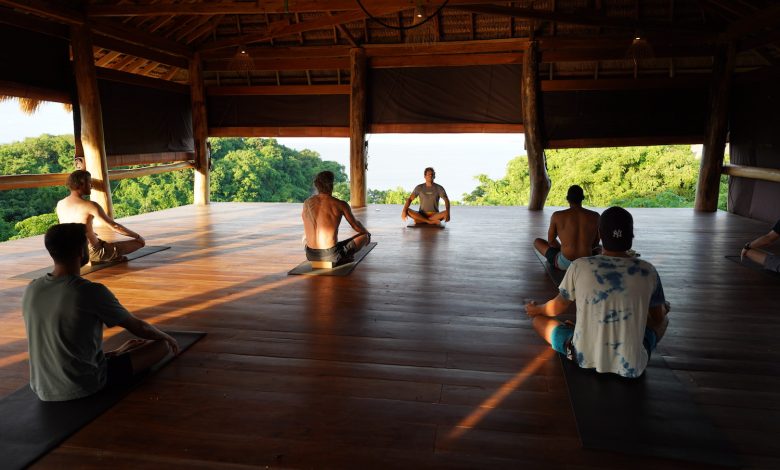 Your definitive guide to surf coaching in Indonesia
Surfing is one of the most challenging pastimes that you can take up. 
Unlike other board sports such as skateboarding, wakeboarding or even snowboarding, your opportunity to practice surfing is largely dependent on the whims of Mother Nature. 
It's also an incredibly physical activity, and you can really feel it when you haven't been in the water in a while. Plus, let's not forget that living the coastal surfing lifestyle and having access to quality waves isn't a reality for everyone. 
So what does this mean if you're addicted to not only surfing but also becoming the best surfer that you can be? 
Well, essentially it means that your good intentions of surfing as much as possible are difficult to maintain. And that they can be dashed by a number of factors outside of your control, from work commitments to family responsibilities, where you live and the ever-changing (or let's be honest… probably sub-optimal) conditions at your local break.
For many of us, these factors ensure that while we might still sneak out for the odd session, we're never actually building a solid foundation and giving ourselves every opportunity to grow as a surfer. This in turn means that we often find ourselves plateauing or (shock horror) going backwards whenever we paddle out… and maybe even questioning if surfing is even for us.
If this all sounds painfully familiar, we've got good news for you. 
There's a tried and tested means for breaking through your surf skill ceiling and actually condensing weeks, months or even years of hard-fought learning opportunities into one small window, thereby making you a more confident surfer AND a more responsible global surf citizen in a shorter amount of time: Surf coaching in Indonesia!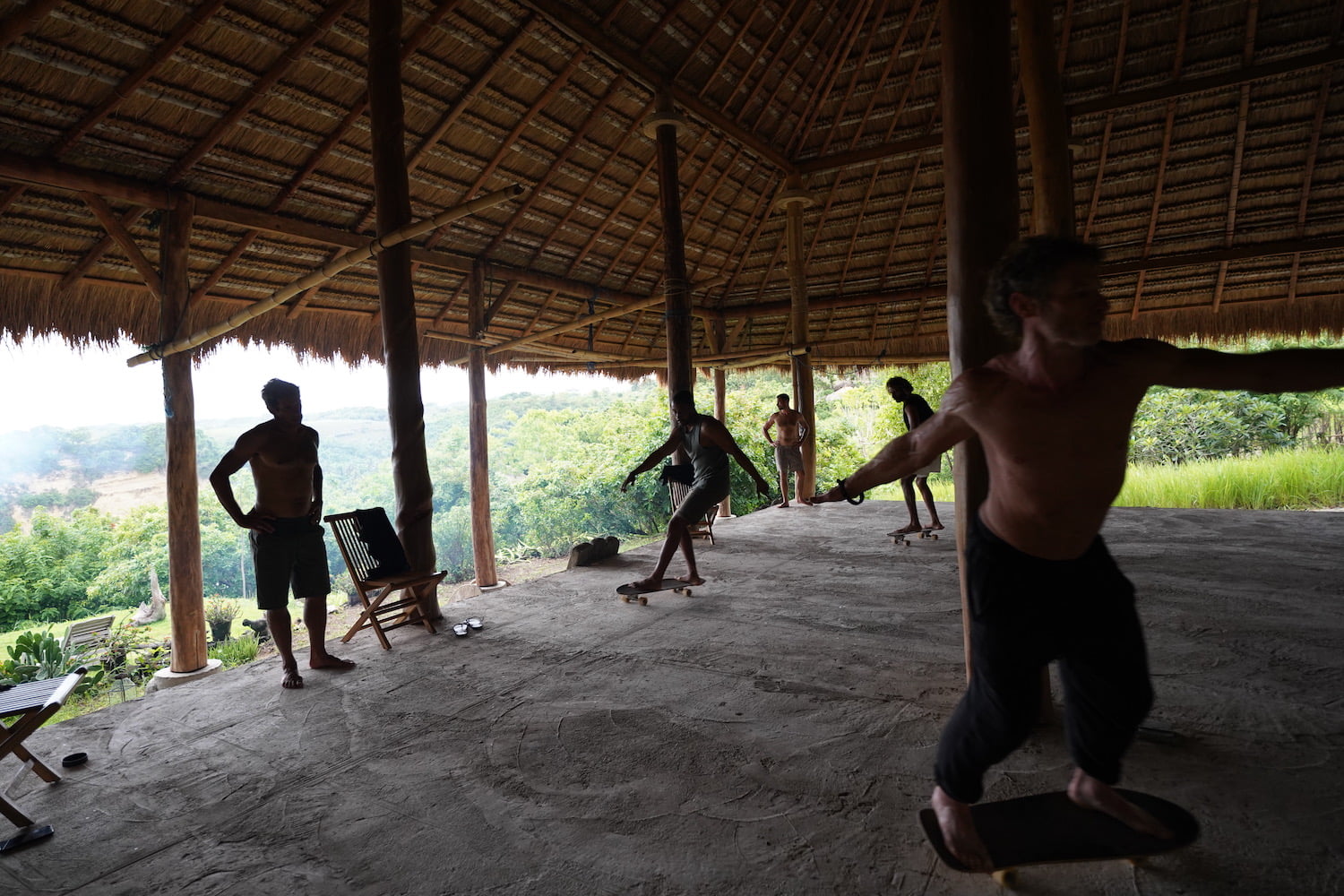 What is surf coaching?
Simply put, surf coaching is the act of having a surf coach guide you in the surf. More specifically, surf coaching is about having someone who's been there and done it before teach you how to surf better. 
Surf coaches are experienced surfers themselves who can help you understand wave dynamics, surf etiquette, paddling technique, surfboard selection and more – all from their own experiences. They can also provide valuable insights into your surfing; whether it be your body positioning on the board or your mental attitude when riding waves. 
Surf coaching takes many forms but typically involves pre-session planning (deciding where to go based on knowledge of local breaks/surf spots), water safety discussions, physical exercises/drills to develop surf fitness, surfboard selection/setup, surf etiquette and technique analysis. 
Ultimately, surf coaching is about identifying your individual surf goals and helping you realise them by taking away the guesswork and providing guidance to take your surfing to the next level. 
Meet our surf coaches here.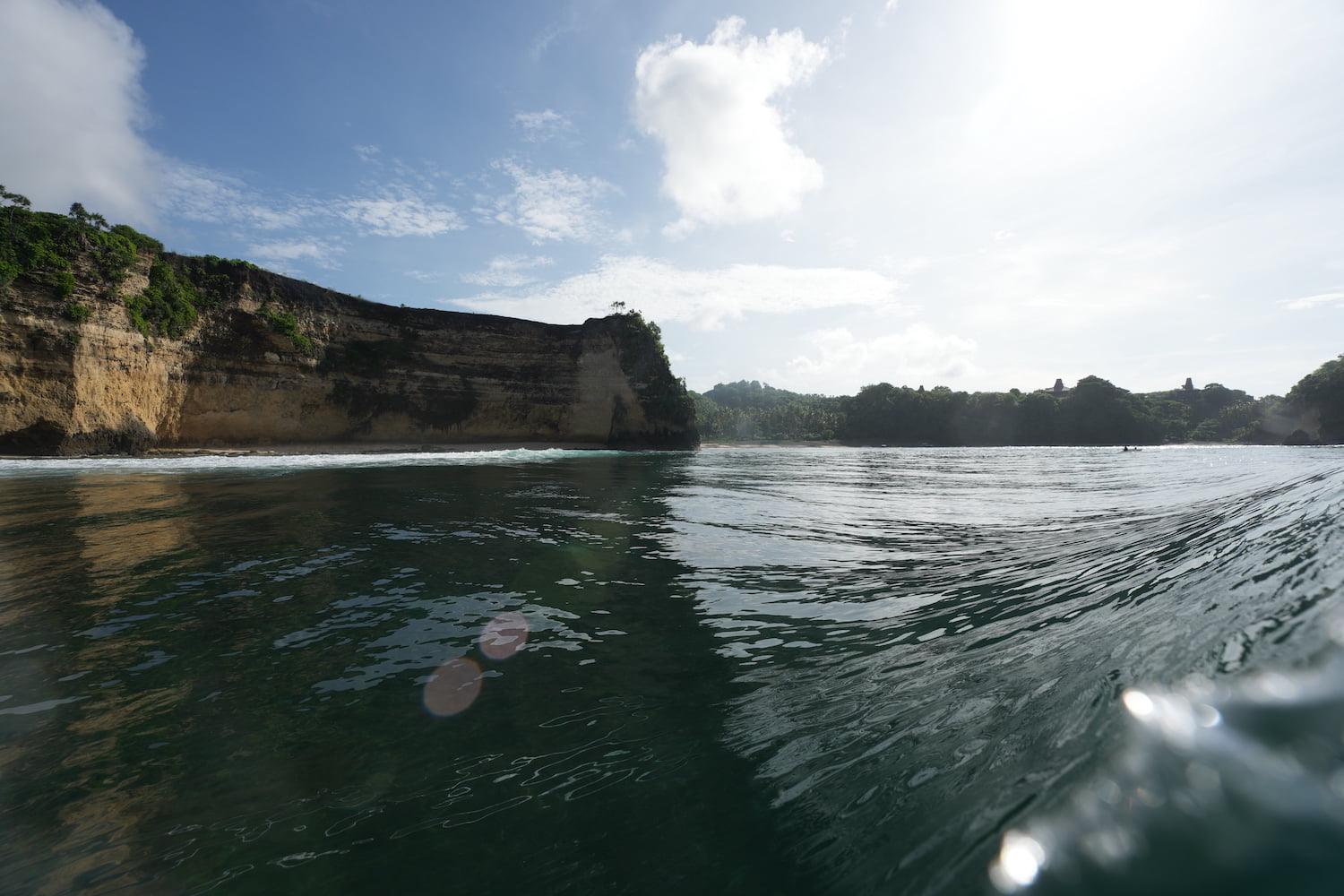 Who can go on a surf coaching trip?
We've had people from all over the world joining our surf coaching retreats in Indonesia. 
From Europeans to South Americans, North Americans and Australians, there's really not one dominant nationality, which means it's an amazing opportunity to meet and bond with people from across the globe. 
As for the average age, most of our participants are between 30 and 40. However, we've also had people in their 20s and in their 50s join our trips!
Groups are just as welcome as couples, as are individual bookings. Although for groups of 4 or more, we recommend contacting us directly to organise a private surf coaching trip. 
Our retreats also have a good mix of both men and women. At the end of the day though, it's more about being in good company with likeminded people who are also keen to surf better.
Finally, while our classes are taught in English, our crew also speaks French, Spanish and Portuguese.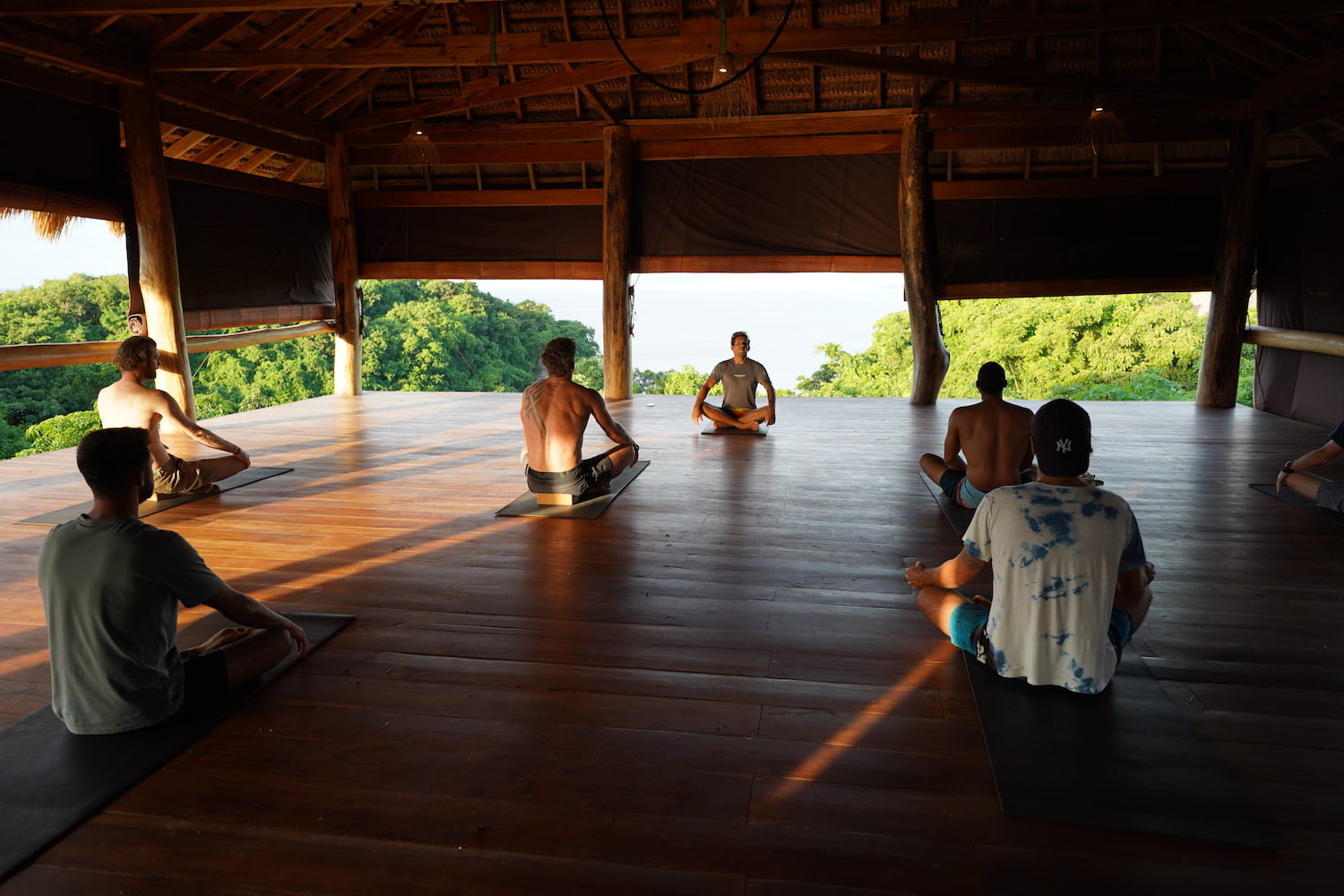 How do I know I'm ready for surf coaching?
One of the most prevalent and unfounded myths of surf coaching is that you must either be a professional or someone looking to break into the competitive environment. 
In actual fact though, surf coaching is for surfers from all walks of life, regardless of age or surf ability. It doesn't matter if you started young but haven't surfed in many years or you only just picked up surfing in the last few months. 
If you find yourself watching more experienced surfers in awe and wishing you could surf like them or you simply want to surf the world with more confidence in your abilities, then surf coaching is for you. 
Here are 12 signs you're at the point in your learn-to-surf journey where surf coaching is the logical next step: 
You feel "stuck" or (worse yet) like your surfing skills are going backwards

You feel lost in the lineup and are unable to find the best waves on a given day

You have the popup and basic maneuvers sorted, but you struggle to combine it all into one smooth ride

You're unable to surf on a regular basis due to life commitments

The waves at your local break aren't challenging you to take the next step

You feel like you're close to a breakthrough but no matter how hard you try you can't seem to get there

You surf better on certain boards and worse on others, but you're not sure why

You see how a friend or acquaintance recently travelled to a wave-rich destination and is now surfing much better

You don't feel confident when the waves are steep or barrelling

You feel like you started late in life and you want to accelerate the learning process

You keep buying new boards but don't see any improvement in your skills

You're starting to question whether surfing is for you (even though you love it)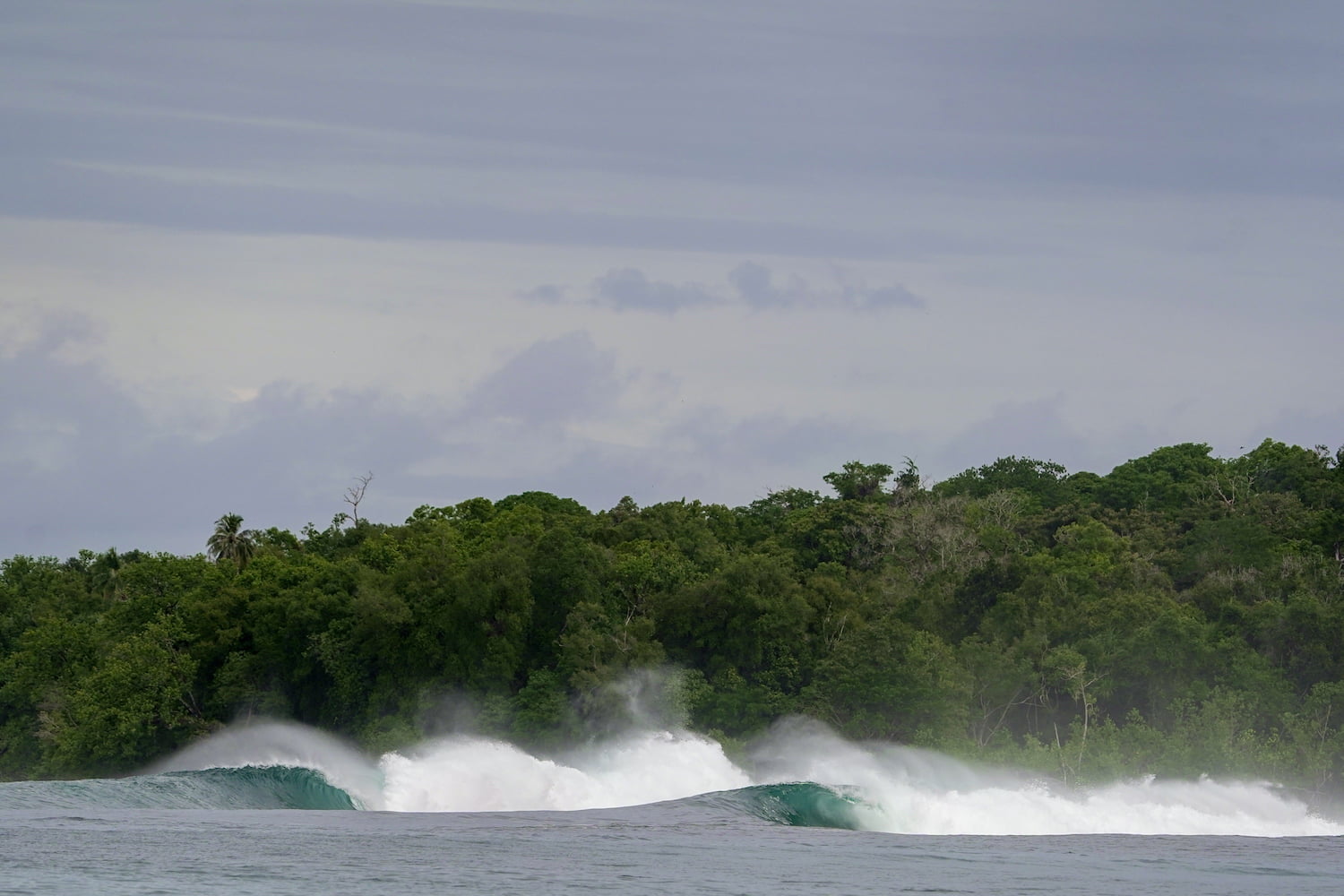 What makes Indonesia such an excellent surf coaching destination?
Indonesia is located in the southern Pacific and boasts some of the best surf breaks in the world. With over 10,000 islands, year-round swell and bath-like water, it's no wonder that it's long been considered a surfer's paradise. Here are a few reasons why we believe there's no better place for surf coaching than the Indonesian archipelago.
World-class surf spots
Uluwatu, Padang Padang, G-Land, Nias, Periscopes, Bank Vaults, Macaronis. The list of classic Indonesian surf spots goes on and on. Whether you are seeking a mellow beachbreak or an intense reef pass, Indonesia has something for everyone – from learners to advanced riders.
The opportunity to surf without crowds
Of course, the aforementioned spots do get crowded. But for every famous surf spot of world-class quality, there's a handful that are almost just as good and virtually crowd free. With a bit of local knowledge and sage advice, you can surf some of the best waves in the world with practically no one else around on an Indo Surf Crew trip.
Year-round consistency of waves
Despite what you might think, there's really no off-season for waves in Indonesia. Sure, some months are better than others. And you might find a few more days with small waves than you'd like. But it's definitely possible to find a variety of good quality, consistent surf in Indonesia all year round. 
Surf spots for all skill levels within close proximity
Because of the sheer number of breaks in Indonesia, you're only ever a short paddle, boat or scooter ride away from some new waves to explore. Whether you're just starting out or have been surfing for years, there are spots that cater to all kinds of levels – all within relatively close proximity. 
Breathtaking natural scenery and unique ecosystems
Let's not forget either that when it comes to spectacular sunsets, unique animals and scenery that will take your breath away, Indonesia has it all. From the lush jungles of Sumatra to the pristine beaches and crystal clear waters of Bali and Lombok, you'll find yourself in awe at the beauty that awaits around every corner. 
Amazing tropical weather
Prefer boardshorts and a bikini to a coat and scarf? Then you'll love the tropical climate in Indonesia, where it's sunny almost all year round. With temperatures rarely dropping below 25 degrees Celsius, expect nothing less than warm days and balmy nights. Plus, with so much coastline around, you'll never be too far away from that refreshing sea breeze either.
A chance to immerse yourself in a rich culture
While Indonesia is the name given to the collective archipelago, there are actually thousands of different islands, each with its own distinct cultures and customs. From the well-known island of Bali to lesser-known gems like Flores and Sumba, there's plenty of opportunity to immerse yourself in the local way of life and learn about the unique traditions that make Indonesia so special.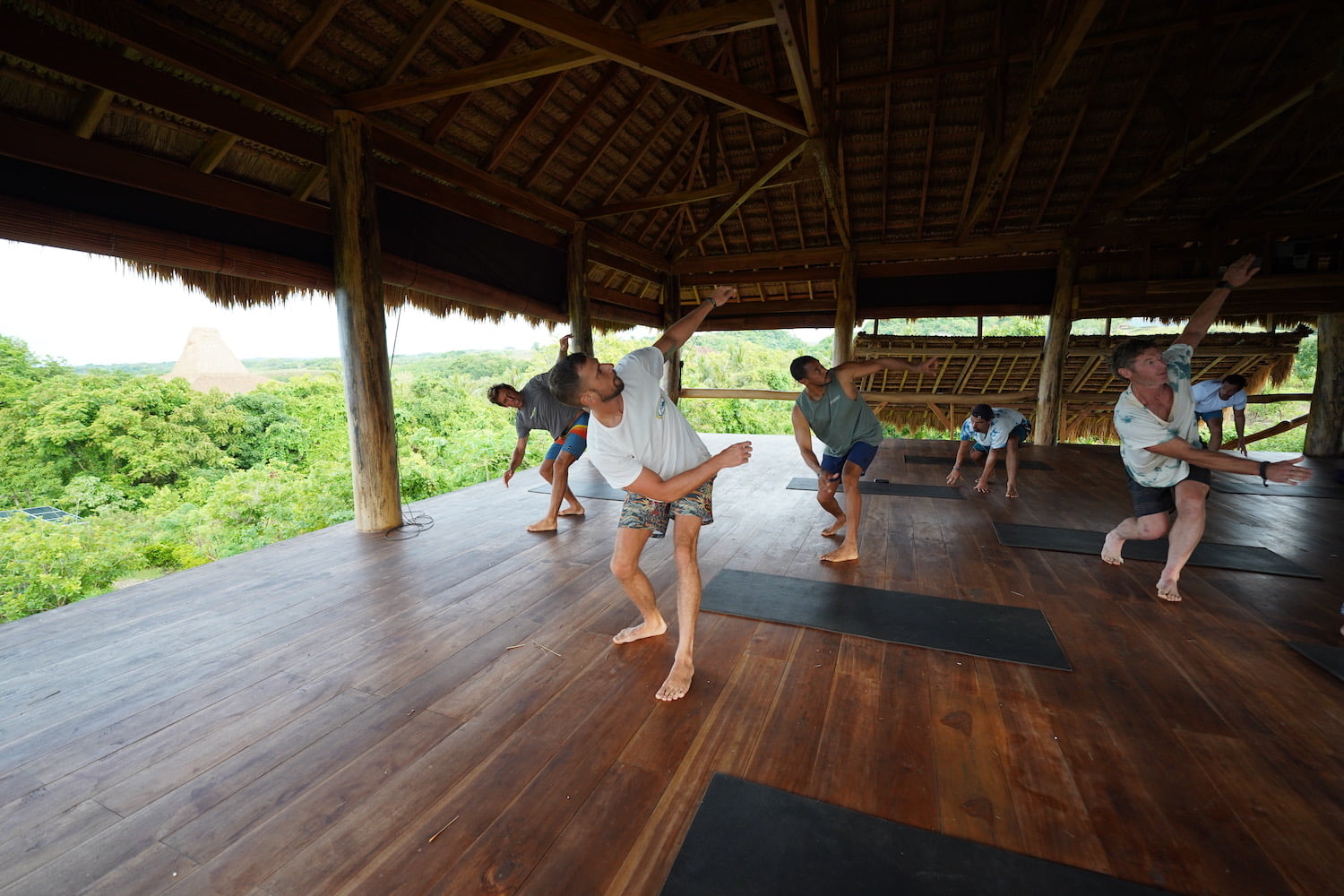 What skill levels will benefit from a surf coaching trip to Indonesia?
One of the best things about surf coaching in Indonesia is that all skill levels can benefit. It doesn't matter whether you're a total beginner or an experienced surfer, there are spots and coaches to suit every ability. 
That said, most of the trips we run are for intermediate and advanced surfers who are serious about running a fine tooth comb over their surf skills and taking their performance to the next level. The reason for this is that most of the breaks we visit are reef breaks, and the coaching methods we use are targeted toward more capable surfers. 
Our approach, however, is to always tailor the coaching sessions to suit your ability. This means that as opposed to most coaching retreats or surf schools, we're then able to really dig into your strengths and weaknesses – only then can you start to make progress and see the real benefit of surf coaching in Indonesia.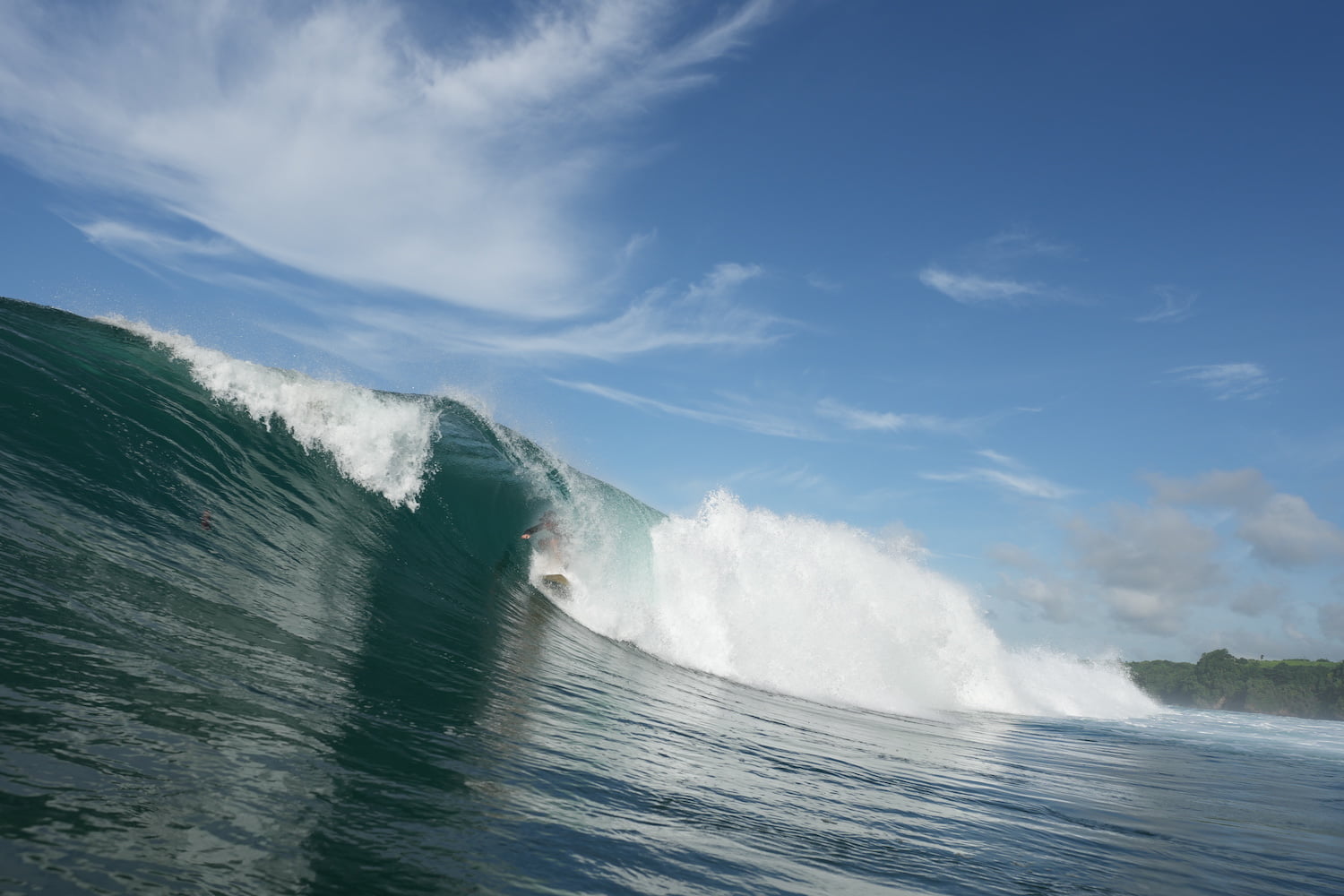 What can I expect to learn from professional surf coaching?
Speaking of benefits, you might be wondering what you'll actually be learning on a surf coaching retreat. You might also be questioning whether it's worth forking out for a surf coaching retreat in Indonesia when there are surf coaching retreats based closer to where you live that are easier to reach. 
Well, below we've outlined a few of the key skills you'll learn during surf coaching in Indonesia. As for the question as to why you should book a surf coaching retreat in Indonesia instead of somewhere closer, it's safe to say that the unique environment, amazing surf spots and access to world-class coaches make it a no-brainer. 
To increase your technical surfing skills exponentially
The number one thing we'll teach you on an Indo Surf Crew coaching retreat is how to increase your technical surfing skills. 
This encompasses everything from proper paddling technique to pop-ups, longboarding maneuvers and more radical snaps and carves. Video analysis is one of the tools that we use to do this, but our head coach Rodrigo has also developed an innovative coaching method to ensure that issues with your technique can be ironed out in rapid time!
To become more confident in challenging waves
Do you get nervous when the waves are overhead or breaking in shallow water? Don't worry… it's perfectly natural. 
Even the pros still get butterflies in their stomachs when the waves are pumping. What we do is show you how to deal with the fear and become more confident in challenging waves. This can take time, but with the guidance of our experienced coaches, you'll soon be surfing challenging waves with total belief in your skills.
How to read a surf forecast to predict suitable conditions
Being a solid, well-rounded surfer is about more than just popping up and riding a wave. You also need to know how to read surf forecasts and predict the best days for surfing. 
This is an incredibly valuable skill, as it will help you make the most of your time in Indonesia and find suitable conditions that are right up your alley. It's also a skill you'll learn for life. And one that makes scoring amazing surf on future trips infinitely easier.
How to apply land-based surf movements to your on-wave surfing
As mentioned previously, our head coach Rodrigo has developed a unique surf training method that's been proven to accelerate your learn-to-surf journey. 
You can learn more about it here, but essentially it involves mimicking surf movements on land using a combination of mobility exercises, surf skate tutorials and more. The benefit of this coaching method is twofold. Not only can you tap into Rodrigo's considerable surf knowledge, but you can also practice on land when the waves are flat or if you're living in a landlocked country.
How to navigate the lineup and select the best waves
Ever wondered how good surfers find the best waves on a given day? There's no secret. It simply takes time to learn how to navigate and lineup and select the best waves. 
In saying that, with detailed video analysis sessions and expert coaching, we can speed up the process and help you quickly become a master of wave selection – all without ever having to take risks that are beyond your skill level. 
An increased awareness of the natural world (and your place in it)
Surfing is more than just a sport – it's an immersive lifestyle that puts you in constant interaction with the world around you. As surfers, we're intimately connected with the environment. We must therefore act as custodians for Mother Nature. 
For us here at Indo Surf Crew, this is such an important element of our surf coaching retreats. We don't simply want to fly in and fly out. We also want to educate our guests on the importance of respecting and protecting the environment and giving back to the local communities that have welcomed us with open arms. 
The goal here is to make you a responsible global surf citizen. And to ensure that your love for the ocean is fostered through a deepened awareness of your place in it.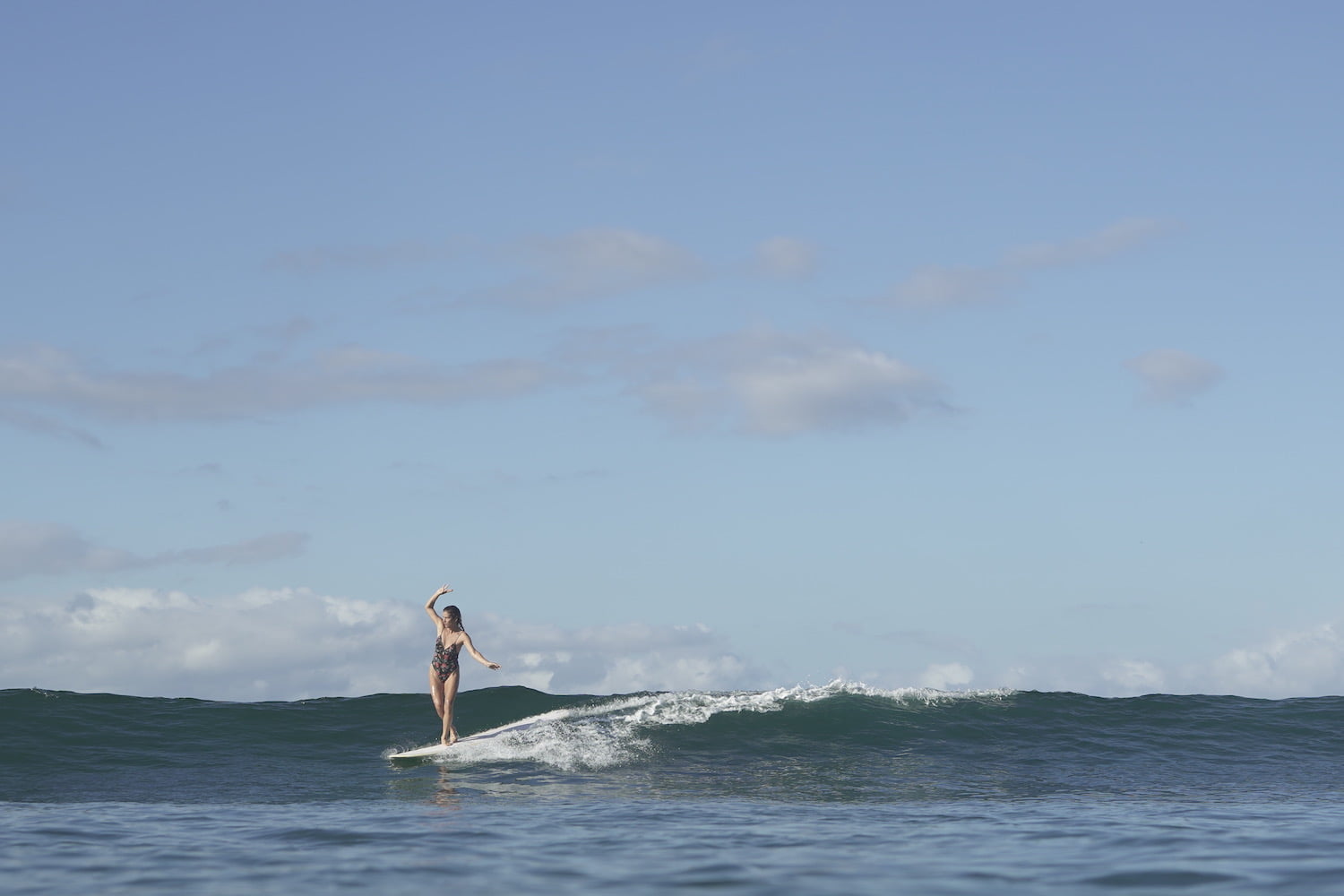 Can longboarders benefit from surf coaching too?
Do you lean more toward the longer side of life? Because guess what: surf coaching is for longboarders too!
Contrary to what many loggers think, it's totally ok to refine your longboarding skills under the careful guidance of an experienced coach. After all, there's nothing cooler than wanting to take your wave-riding capabilities to the next level. 
For this reason, we offer specialised longboarding coaching sessions at our retreats. This involves going to log-friendly waves and catering to your needs as a longboarder. We won't push you out of your comfort zone (unless you want to go there) and we'll make sure that you learn in a safe and encouraging environment.
By the end, we guarantee that you'll come out the other side a more confident longboard. And one who is able to travel the world and surf at all their dream spots. So to answer your question, yes, longboarders can benefit from surf coaching too. 
Just take the first step and reach out today!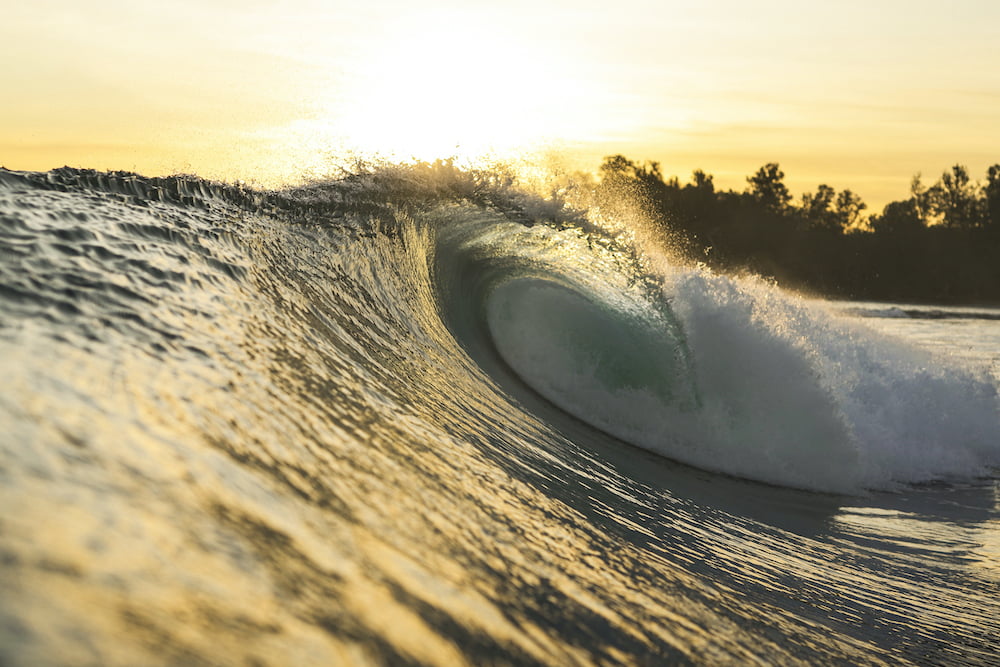 Conclusion
Now, are you ready for a surf coaching retreat in Indonesia? Because if you want to improve your surf skills, explore some of the most stunning landscapes on the planet and have access to the world's foremost surf coaches, hear us out!
At Indo Surf Crew, our focus is on providing a holistic Indonesian surf coaching experience – complete with cultural insights, tried and tested training and a low-impact approach to travel that aligns with our environmental sensitivities. 
Learn more about upcoming retreats by clicking here or contact us directly for specific questions about our trips. We're always happy to help!