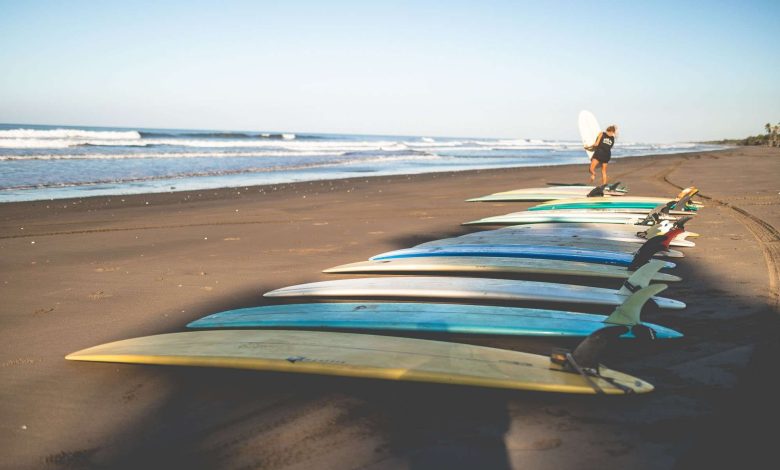 5 of the best surf retreats in the world 
As surfing is on the rise in popularity around the world, we wanted to take a look at some of the best surf retreats out there! There's nothing quite like spending a week in a remote section of the globe, learning how to improve your surf skills, drinking coconuts, practicing yoga, reconnecting with nature, making new connections, and eating nourishing food. A perfect recipe to reset your body, mind, and spirit. To create this list, we took into account retreats that are giving back to their surrounding communities, sustainably responsible and eco-conscious, and high quality in terms of their teaching and programs.
Sirena Surf Club – Portugal/France/Nicaragua
Sirena Surf Club is a woman owned and operated surf retreat organization passionate about community and connection. It was born out of a desire to empower as many women around the world as possible. These retreats are specially curated, unique adventures that connect women with the ocean, nature, and local community through surf, yoga, and play. Sirena Surf Club is on a mission to support women in finding self love and leadership by deepening their connection with the ocean and experiencing the power of yoga in a community where women support each other. They have retreats in Nicaragua, Portugal, and France!
In addition to running retreats, Sirena Social Club supports the empowerment and education of young Nicaraguan surfer girls. They have created a non-profit surf project for Nicaraguan girls, Sirenitas de Popoyo, which aims to inspire local girls from the Tola area in Nicaragua through weekly surfing and swimming lessons, education, and other group activities. Their mission is to create a safe space for the girls to challenge their fears, learn something new, have fun and embrace the gift of connecting with the ocean. The program also sponsors English, computer, and Taekwondo classes.​ Sirena Social Club aims to help ensure the girls get all the opportunities possible to acknowledge the power they have within. With compassion, consistency, commitment, discipline, respect and love, they want the girls from the Tola area to know that they are welcome in the waves and can achieve what they want in life. 
For more info: https://www.sirenasocialclub.com/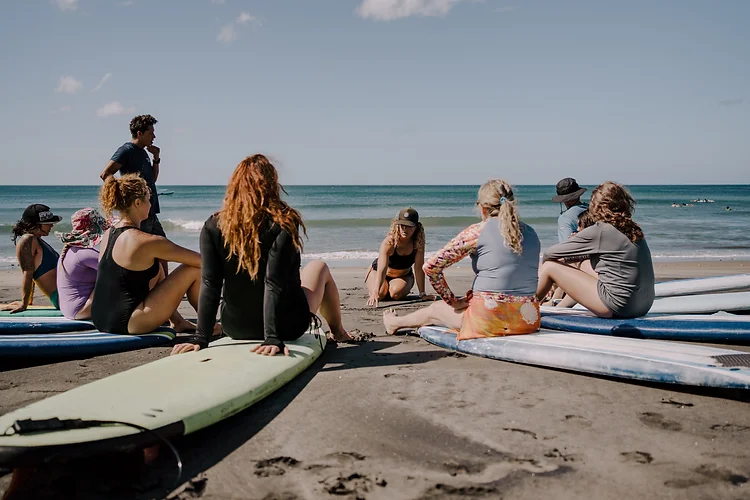 Sunshine Stories Surf Retreat – Sri Lanka
Sunshine Stories is a surf and yoga retreat center tucked away in the tropical jungle off the coast of Ahangama in the south of Sri Lanka. The property is a beautiful open air Dutch Colonial Style villa 5 minutes from the beach. Staying on a retreat at Sunshine Stories feels like a dream come true. Mornings start with an early yoga class in the onsite jungle shala followed by a fresh breakfast buffet of local fruits and then off to the waves. Fuel up after your surf with a delicious and flavorful Sri Lankan feast and enjoy an afternoon surf analysis and theory before a nap and dinner. The friendly and talented local surf coaches are all ISA and ILS certified (the global standard for surf coaching and surf safety) and will definitely help take your surfing to the next level. With daily in-water lessons each focused on a different skill paired with yoga to match each skill, you'll be sure to leave with more body awareness and ocean wisdom than you came with. And of course, at the core of their teachings is fun! 
In addition to their thoughtfully curated surf and yoga retreats, Sunshine Stories is also focused on giving back. They are working towards making as little an impact on the environment as possible, providing the local community with jobs, and spearheading local development initiatives. With sustainability at the forefront of their business, Sunshine Stories is constantly striving to give more than they take to both the local community around them and the planet. Check out their website to learn more about the many ways they are leading the way as an eco-conscious business. 
For more info: https://sunshinestories.com/sri-lanka/the-retreat/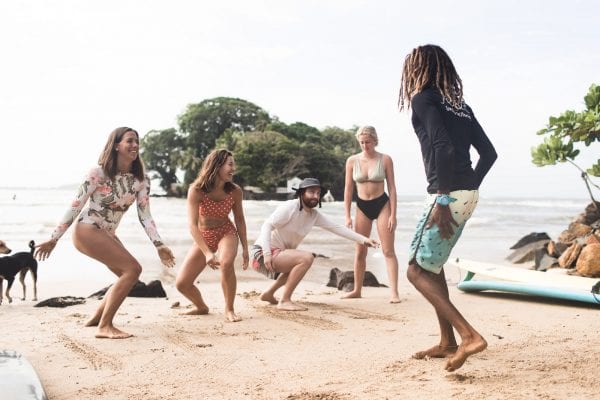 Still Salty Surf Retreat – Nicaragua 
Still Salty is a rustic and idyllic retreat center on the northern coast of Nicaragua. On a mission to cultivate connection through nature, movement, community and service, Still Salty is designed to be a healing sanctuary and home away from home. Built a few minutes walk from an epic surf break and minutes from others of varying degrees, the retreat is great for all levels. With a permaculture garden, healthy homemade plant based meals, plenty of fresh ocean air, daily yoga and surf, it is the perfect place to relax, replenish, and enjoy. Alongside their surf and yoga retreats, they also host a variety of retreats related to health, wellness, nature, and holistic living. Still Salty is a carefully and thoughtfully curated oasis to give guests the ultimate gift of relaxation and nourishment. 
In addition to creating a beautiful sanctuary, Still Salty is also very committed to serving their community and the planet. They donate 5% of their annual revenue to their education system for their local staff. They have implemented a spray and neuter program for the local dogs, a holiday feeding program for families in need, and are raising money to implement a community water well for the surrounding communities. They have goals to provide organic, local, plant based meals to their guests and their local community by growing their own food in a large permaculture garden. They plan to donate food from the garden to families in need and provide a section of the land to schools in the area for education purposes. With gray water systems, solar panels, and a permaculture garden, the property is a beautiful example of and leading the way in terms of regeneration and living in harmony with the land.
For more info: https://www.stillsaltyescape.com/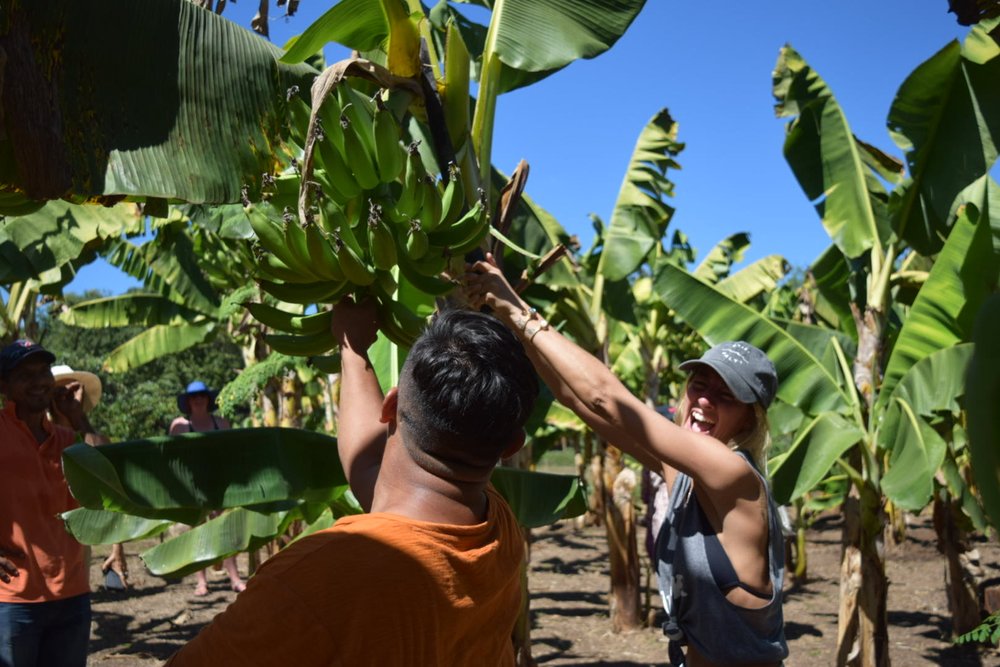 Indo Surf Crew – Indonesia
Indonesia has some of the best waves in the World though it is less known that it also has great waves for beginners and intermediates alike. Indo Surf Crew is unique in the sense that they handpick remote locations where they can mostly surf on their own. More waves means more stoke, more learning, and more fun!
Their mission is to help guests improve their surf skills, get more comfortable in the water and overcome fears, reconnect with their mind and body, appreciate the simplicity of the slow island life, and raise awareness in the process. Indo Surf Crew was created for surfers with a desire to reach the full potential of their body and mind to ultimately surf better and expand their limits in and out of the water.
Offering both longboarding and shortboarding retreats, there is something for everyone. Indo Surf Crew's mission is to help guests create new habits in their daily surf routine while reconnecting with themselves through breath-work and meditation, all while learning from the Ocean. ISC mostly focuses on intermediate to advanced surfers with goals to increase time spent in barrels and improve power, flow, and style while surfing. Likewise, their Cosmic Cross Step longboard retreat is great for all levels and smaller waves as it focuses on skills like cross-stepping, nose riding, and hanging ten. This technical approach is combined with mindfulness meditation and yin yoga to quiet the mind, unwind the body, and inspire growth both in and out of the water and makes ISC a very holistic surf experience. 
Indo Surf Crew is committed to supporting local communities in each retreat destination. Often, the locations of their retreats are kept secret to preserve the natural beauty of these remote spots. 
https://www.indosurfcrew.com/surf-coaching-retreats/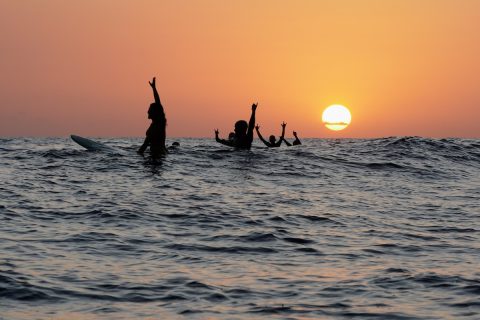 Rise Up Surf Retreat – Central America
Rise Up is an awesome surf retreat company with locations in Nicaragua, Guatemala, Costa Rica, and Barbados. On a mission to gift every guest the most incredible experience, they are doing just that. With world class waves of all levels across each country, there is something for everyone to enjoy! Video analysis, 1:1 feedback, and surf theory classes guarantee guests will take their surfing to the next level after a week on a Rise Up Retreat. Guests on a Rise Up retreat enjoy beautiful and pristine nature, daily yoga, home cooked locally sourced meals, and take home epic photos for memories.
In addition to providing rejuvenating experiences for their guests who come to learn and enjoy, Rise Up is also doing a great deal to give back to their communities and to the planet. Every location is associated with a different local organization focusing on children, education, and conservation. They're involved in different projects ranging from renovating and restoring schools to teaching locals how to surf to beach clean-ups, sea turtle conservation, and community education. They also participate in a carbon offset program to reduce emissions on guests' flights. With their communities at the forefront of their values, they are focused on sharing the stoke and leaving these locations better than they found them. Buying organic and local whenever possible, reducing and recycling plastic, and hoping to leave a positive impact in the communities they're living amongst, Rise Up is doing their part to give back.
For more info: https://www.riseupsurf.com/