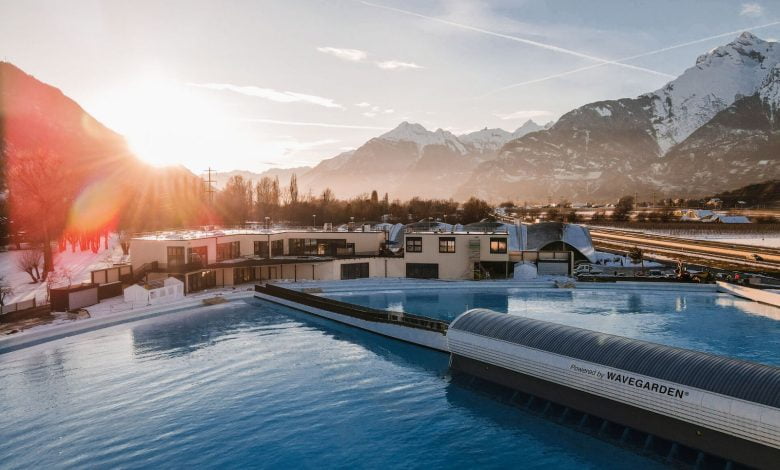 The Wave pool Era
Here we are, the wave-pool Era has truly started. A few years back, wave-pools were just an utopia and very few core surfers were keen to surf mediocre to average waves in a green chlorine pool. However, today, the reality is different. The wave quality is excellent and wave pools have become real destinations on pretty much every surfer's bucket list. After a slow start with a few experimental pools from different tech providers such as Wavegarden, American Wave machine, we are now assisting to a big ramp up of the industry. There are more than 50 wave-pools projects underway and about 10 commercial wave-pools which are operational and open to public.
Wave-pools in Europe – a little tour of horizon
The operational wave-pools all have their own identity with different waves technologies, types of waves and atmospheres.
Alaïa Bay, for example, is centrally located at the heart of the Swiss Alps in a dreamy location for action sports lovers. Mountains all around, skiing, biking, snowboarding, climbing and much more… Skiing and surfing in the same morning has become a reality. The surf hub is just a train ride away from Geneva & Zürich, the main hubs in central Europe. The wave park is using the Wavegarden technology with various levels from Beginner to Pro. Their wave is renowned to be a bit shorter and punchier than other locations. There's a great restaurant and bar overlooking the wave to enjoy a fresh drink after your session. Service is top notch from surf coaching, to the surf equipment and hot showers after a cold winter session.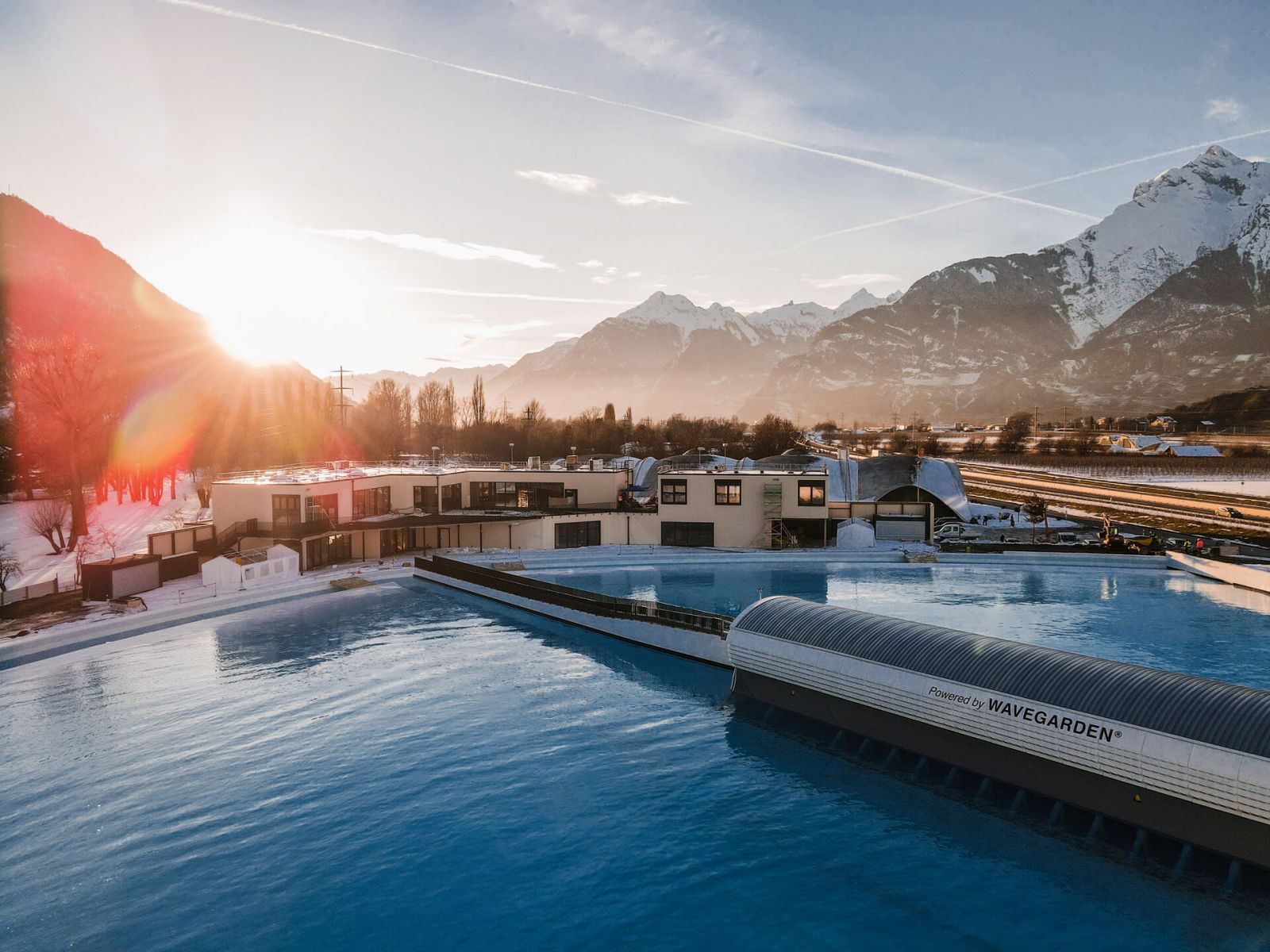 The Wave, Bristol in the UK is located in the countryside and has a very mellow surf skate vibe. There is as well a glamping facility onsite. They have the perfect setup to surf-skate around the pool there are by the way some skateboards to use for free. Since the opening they've always taken sustainability very seriously. They're working towards making the business Net Zero carbon in terms of its operational energy consumption by June 2023. Work is set to start on a solar and energy storage array which is forecasted to produce about 3'000'000 kWh which is way above the Wave annual's consumption. The excess power will be distributed to the neighborhood to support their energy usage. They also use the Wavegarden technology. The pool is slightly longer than Alaïa Bay and the wave more mellow.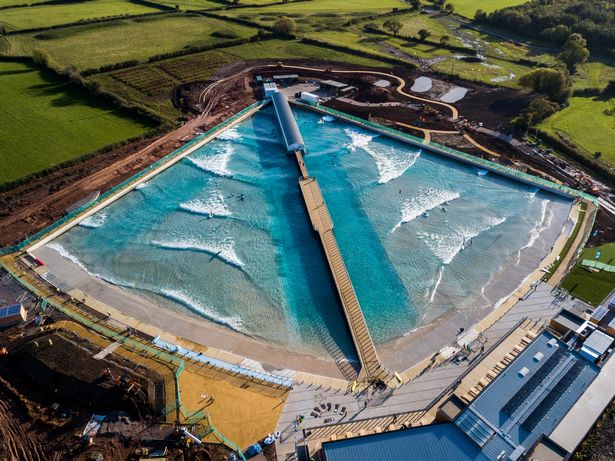 Wave Pools around the World
BSR Surf Park, Waco,Texas is powered by American Waves Machine and produces excellent waves as well.  The infrastructure around the wavepark is rather basic and oriented for hardcore surfers, but there's definitely all you need to have an amazing experience!
Brazil seems to be the next wave pool nation with already 2 wave pools and many more underway! The national star Gabriel Medina has recently announced that he was going to develop and finance multiple projects with his company Kauai Ventures.
URBN surf (AUS), Korea, Snowdonia (UK) and the list is long !
During the last 10 years, wave pools have slowly conquered most surfer's hearts. Surf Park Central has just published the 2022 consumer trends and the results are clear! In 2015, 22% of respondents were not keen to surf a wave-pool, in 2016 only 6% were not keen and in 2022 it dropped to 1%… Wave quality has drastically improved. We don't know many people who have surfed a wave pool and have said never again… It almost seems against nature for a surfer to enjoy this kind of experience, however, a good wave is a good wave.
Let's be honest, the ocean will always be the ocean and a wave pool will not replace a magic sunset session in the ocean but the wave pool environment is an ideal environment for progression and training! Wave count is guaranteed, you can focus on specific manoeuvres over and over knowing what kind of wave is coming. Up to 30 waves an hour…Close to the shore, easy to film and coach. Could you imagine having the next Indo Surf Crew retreat at a wave pool ?! It seems like our PowerSurf training and the wave pool environment could be a winning combo. Surf an hour (20-30 waves), practice on land on a surf skate, then review your footage… no matter what the swell is doing! Stay tuned, there might be something coming up.
Article written by Zoe
Interested in joining us on a surf coaching trip at one of those wave pools? Let us know below, we'll keep you posted!