- Lombok, Indonesia -
September 12 - 17, 2023

Spots Left: 6

December 11 - 18, 2023

Spots Left: 6
Learn how to surf in the crystal clear waters of Lombok
Dive in a journey of self-enquiry supported by the Ocean
Connect with like minded people as you discover a deeper sense of purpose
Treat yourself and let us guide you through 7 wholesome days focussing just on yourself and your spiritual and physical wellbeing.
Supported by the swells of the Indian Ocean, your own beautiful being and a few souls that are here to guide you along the way in Lombok, Bali's stunning neighbouring island in Indonesia.
A whole week catching turquoise waves, bath in beautiful bays, take time to listen to the needs of your body, mind and soul. Allow yourself to connect to the present moment, away from all the noise. Let yourself sink deeper through Yoga practices, feel your full heart through the warm tones of sound healing and just BE.
This surfing program is designed for:
Beginners
You've never surfed or surfed less than 30-days, you want to learn how to surf green waves, ride sideways and gain more confidence in the water.
The listed surf level is the suggested experience level for this retreat.
If you are not sure if this retreat is the right one for you, please fill out the form below with a note, or simply contact us.
'HOLISTIC SURF, YOGA ' are the pillars of our Retreat program. 
'Floating You' is about floating on the water and within your being. It is about challenge and growth in playful ways.
Embark on a journey to connect to your inner wisdom while experiencing surfing as a transformative tool to feel more alive than ever before.
You will surf, practice yoga on and off the mat, and uncover the layers of  your unique gift and purpose.
This surf and yoga retreat is designed for women and men, who would like to surround themselves with like-minded people that are pursuing their dreams and feeling called to the practice of surfing. You are open to be guided, find out about your raw diamond, seek confidence through self-empowering practice, grow in a circle and grow within yourself. Happiness is the one thing that doubles, when shared.
The ocean and the waves are helping to fulfil the journey. They remind us of being tiny, humble and just a little piece of the puzzle rather than something big and important.  At 'Floating You' we explore the magnetic pull so many of us feel towards water.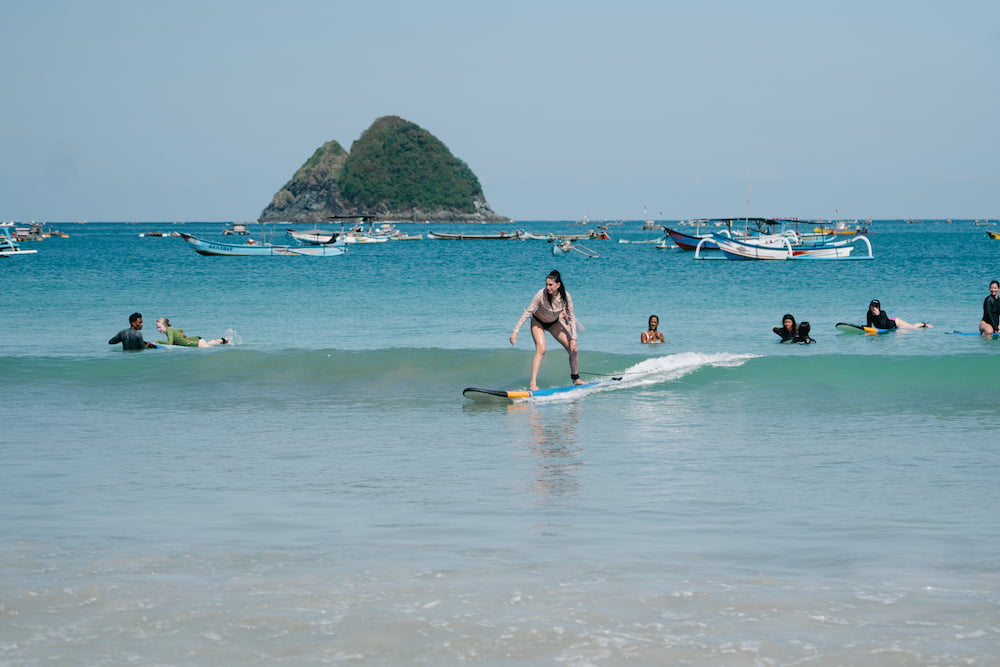 Surfing as a tool for personal growth
Within days, you will feel a transformation of your mindset and your physical condition. Surfing is about balance and commitment.
On one side, the waves are challenging us and confront us with our fear. We are forced to overcome and must remain present. It is a direct reflection of how we interact in day to day life and can point at us which part of us we need to work on / let go.
It helps to increase your willpower, your survival instincts and it grounds you – these are benefits and learnings that go hand in hand with yoga and inner work. Learning about the ocean and a wave means listening to your body, mind, consciousness and instincts.
To us, surfing means the chance of getting the deepest connection you can possibly have with the ocean – while each of us will have a different interpretation of our very own ocean.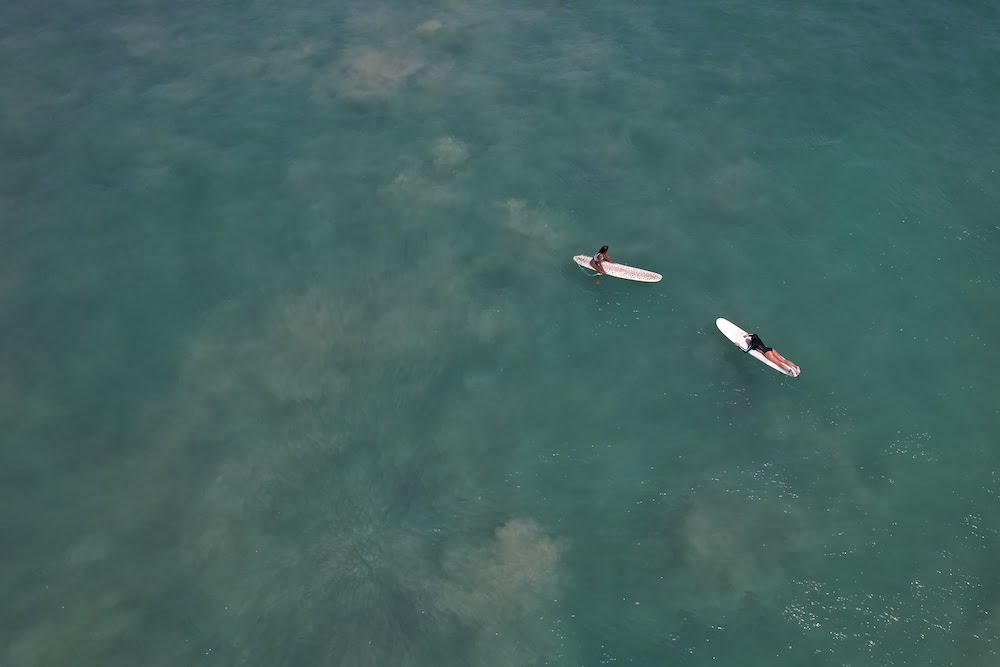 The practice of Yoga is a gateway to our inner world.
The term "yoga" comes from a Sanskrit word meaning "union." Yoga unites physical exercises, meditation, and breathing techniques to strengthen the muscles, directs our mind and relieves stress.
Through connecting with our mat, we are able to find stillness in the loud & busy world.  Through focussing on movement and breath we are able to transform our body into an instrument of surrender to an ancient discipline.
Yoga is a practice that honors you, your teacher and every living being around you. A way to praise wholeness, respect and acceptance.
Every student is a teacher. Every teacher is a student.
A physical exercise that gives time to gaze within and identifies who is moving you. Your ego or your soul. Yoga is a beautiful way to get to know yourself on a deeper level.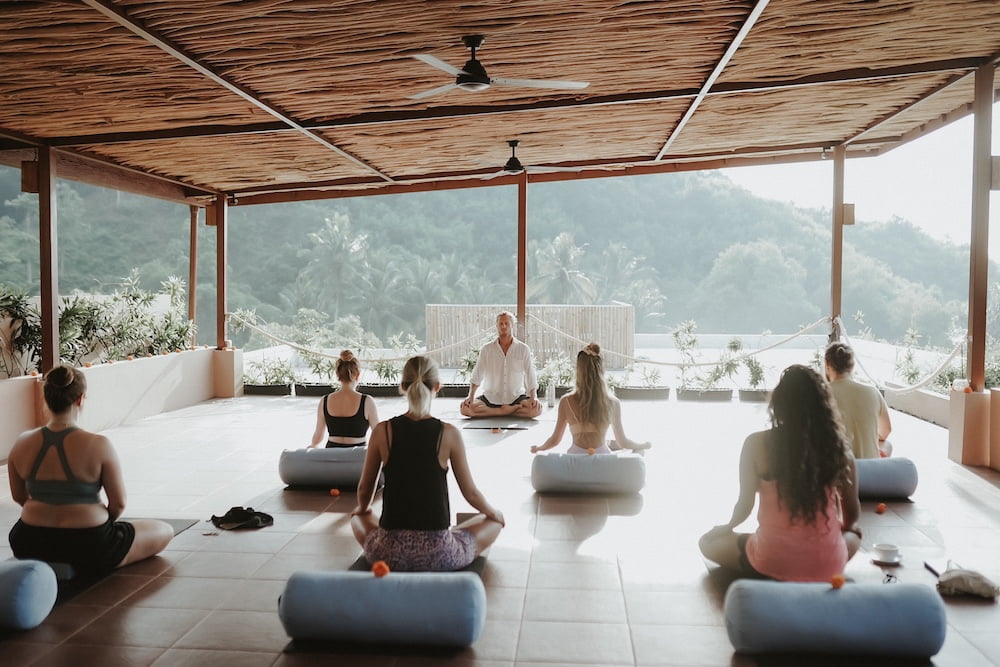 A typical day with us:
Depending on the ocean tides, our typical 'Floating You' schedule goes like this:
 Wake up by singing tropical birds and gently wake up your body & mind with a healing yoga practice
Breathing exercises and meditation to sink deeper into the depth of our souls
Indulge in our healthy and fresh breakfast
Daily surf with the best instructors in town. We hold your hand every step along the way to guide you gently into your surfing journey
Back to the accommodation. Time to shower, rest, get a quick snack & maybe get a massage treatment.
In the afternoon we meet for either a guided meditation, a sunset hike, a self development exercise, a healing ritual, a sharing circle, a painting session ..
Surf Analysis to implement your learning for the next few days. See yourself on the board and evaluate what you can do better tomorrow with our coaches
We round up the day with a big feast dinner prepared by the best restaurants in town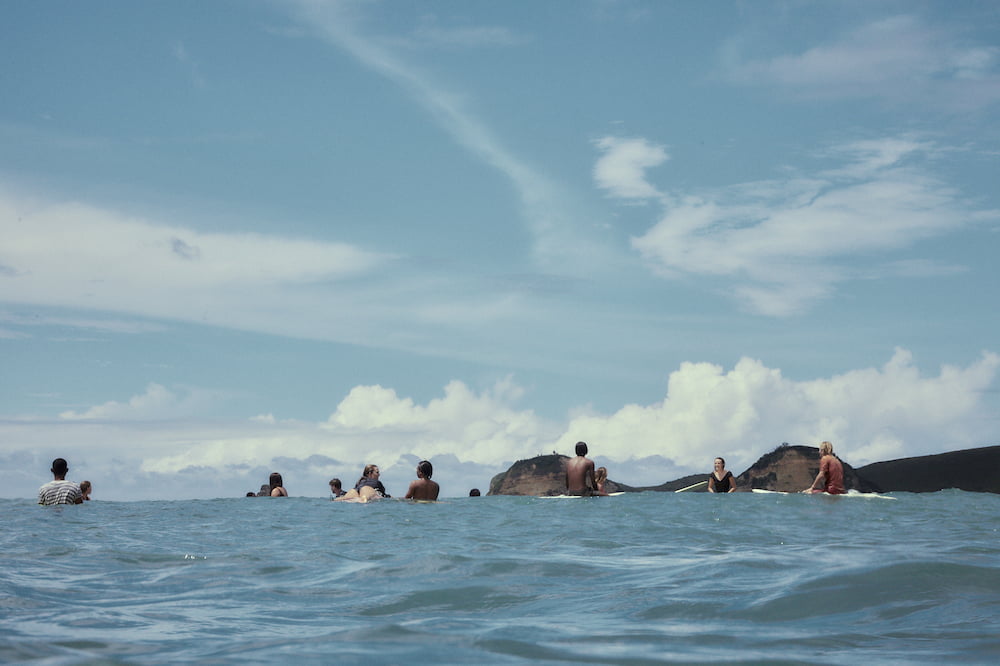 Reserve Your Spot!
The Crew
Riany

Floating You, Founder & Host, Yogi – Surfer – Personal Growth

Half German half Tamil Sri Lankan. Born and raised in Düsseldorf – Germany with periods of working and living in New York and London.

Straight after her graduation she started working in the music industry for about 15 years. Music Management & Project Management for several artists including M.I.A., electronic DJ Loco Dice and Noah Becker (son of Boris Becker) was the base of her day to day job. She relocated to Asia in 2018 to finally start a journey of fulfilment, value, self love and alingment: personal and business related. Leaving the comfort zone and western securities to be able to hear waves, practice mindfulness, come closer to her roots ready to live with purpose.

-200 Hours YTTC at the Godvardhan Eco Village in India, traditional Hatha in 2019

-Personal growth & Self-love

-Ceremonial Cacao
Join Our Crew!
Accommodations
Jungle escape in Kuta Lombok
Tucked away in the green valley of Kuta Lombok. Very close to the center of Kuta and yet very quiet - this brand new hotel will give you a feel of staying in the jungle with the comfort of a modern hotel with A/C rooms, beautiful views, privacy and cosiness.
The hotel has a yoga rooftop with splendid mountains surrounding it and showcasing different layers of green.
Wake up to the sound of tropical birds singing in the morning and return to rest & integration in this perfect space to retreat.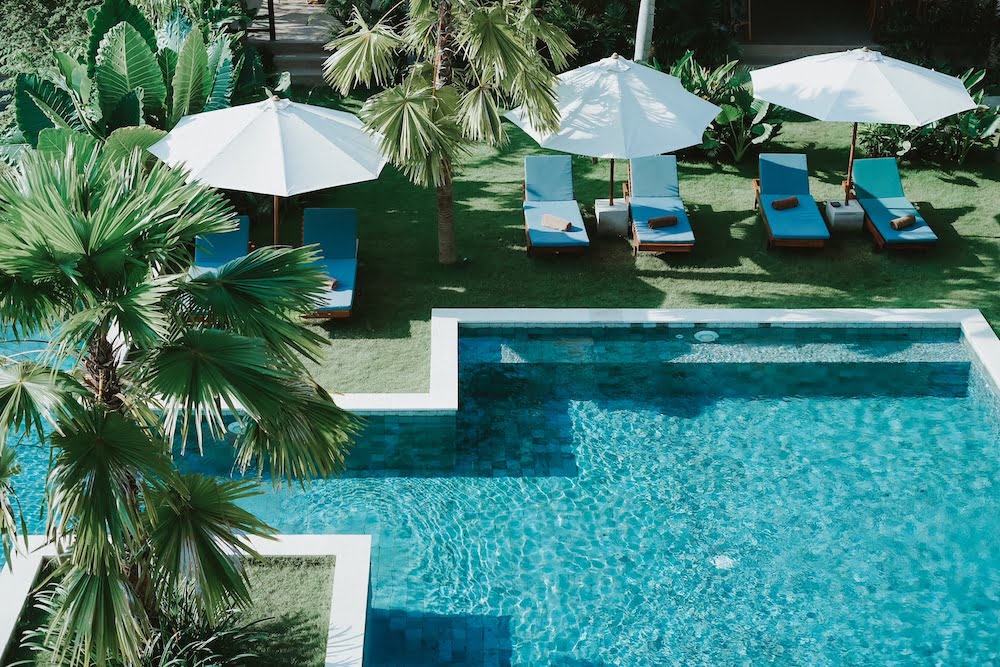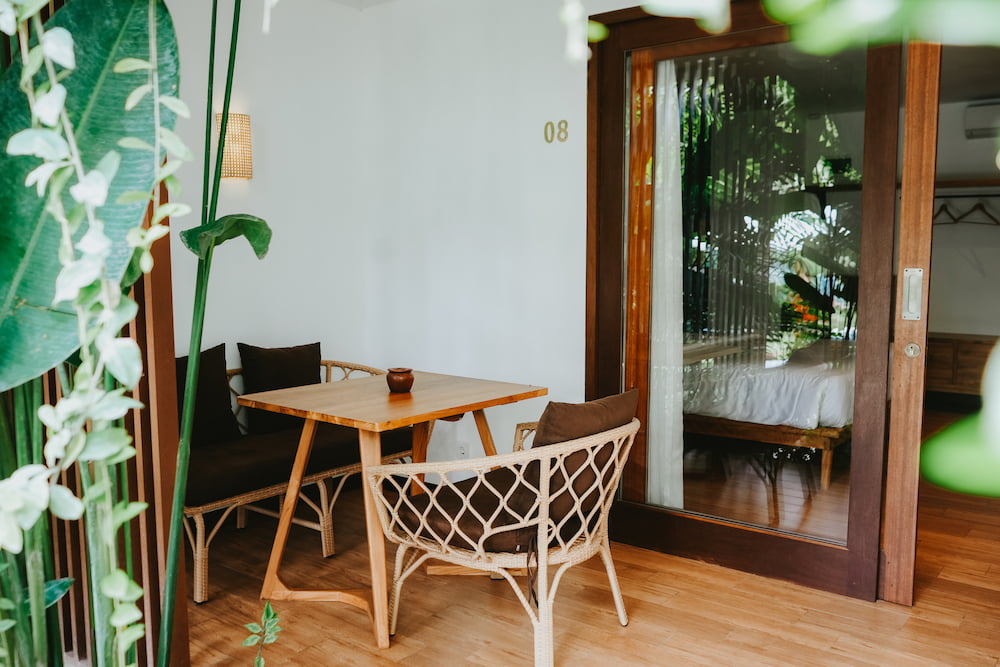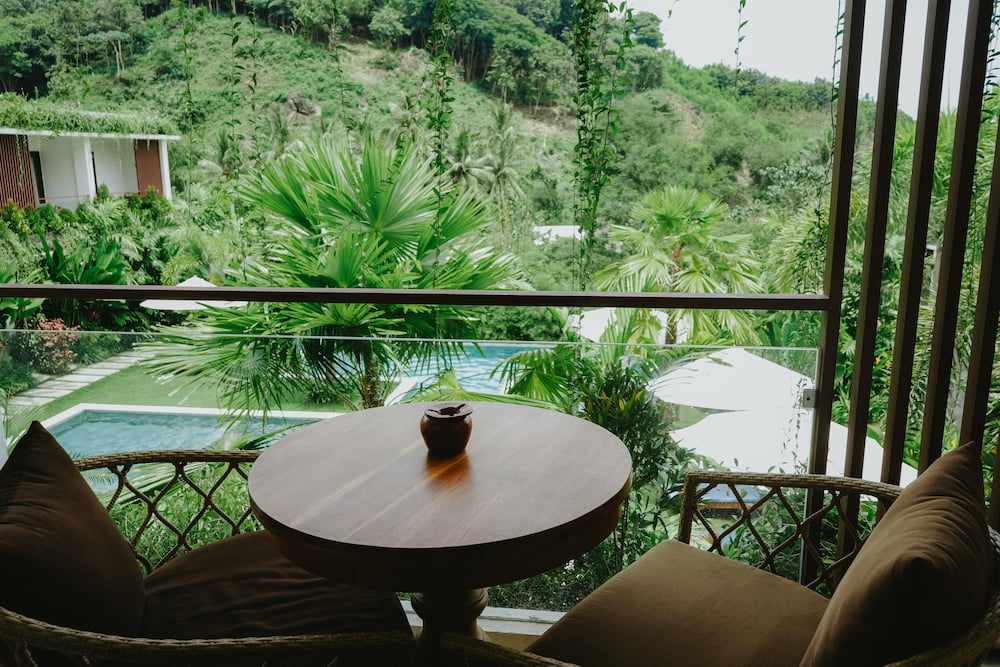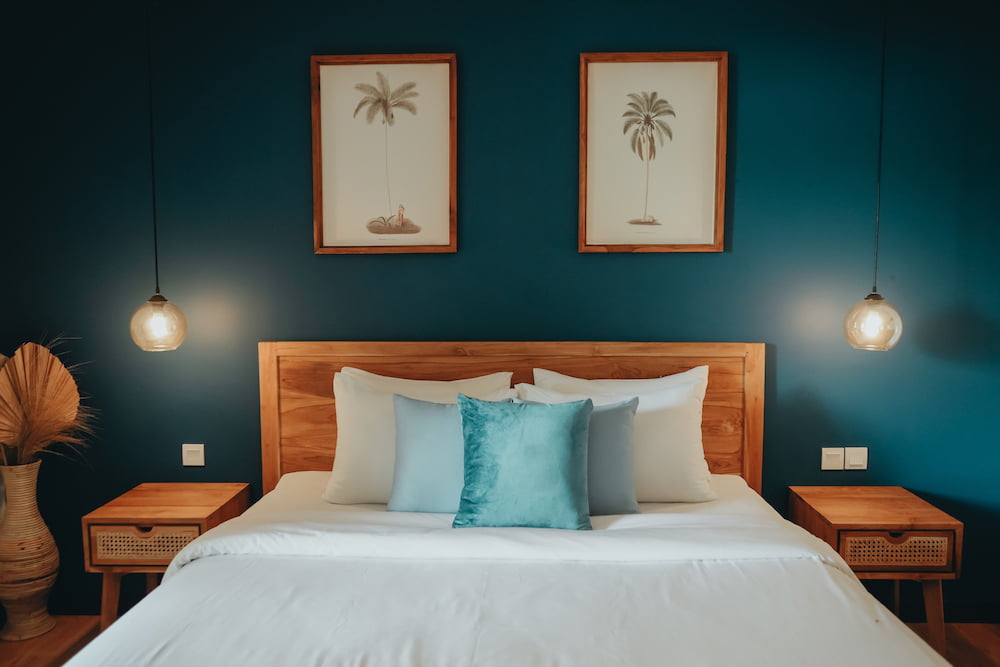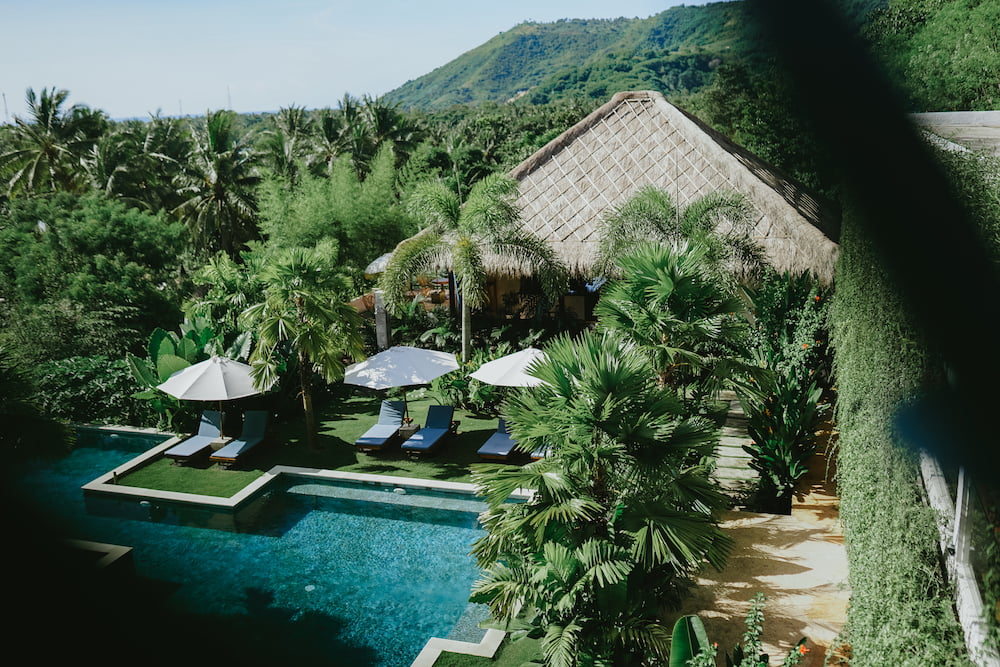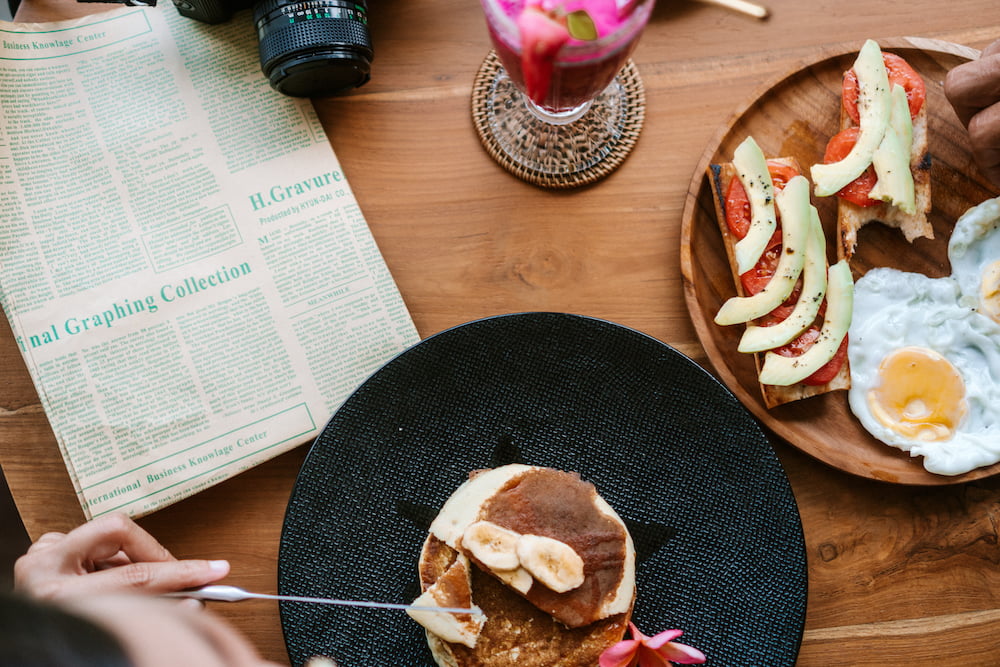 Secure Your Space
WHATS INCLUDED:
 7 X Nights accommodation in a brand new boutique hotel in the valley of Kuta Lombok (private double rooms with kingsize bed,private bathroom, AC & hot water / single and double occupancy possible)
Airport pickup and drop off
7 X Healthy nutritious big breakfasts, traditional lunch and dinners prepared by the best restaurants in Lombok
1 X Surf theory lesson to talk about where you are at, your challenges and goals
5 X Surf lessons with 1:2 coaching
5 X Surf analysis by our instructors to implement your learning for the next day
Daily Yoga for your inner wellbeing, balance to our loud external world & preparation for your surf
A Sound Healing & new moon cacao & fire ceremony
A Creative canvas session
Free use of surfboards and Yoga mats
Transport to all surf sessions & excursions & dinners
Free drinking water
100 edited images from a professional photographer from a week with us incl surf photo's from the surf analysis (Bring your USB stick)
1 X Welcome gift because 'Floating You' is so grateful to have you
WHAT'S NOT INCLUDED:
Flights to Lombok
Special beverages / softdrinks
Any kind of alcoholic drinks
Scooter rental if needed
Additional in-water shooting for 130 EUR per session by a professional photographer with water housing
Additional body treatment with local healer 40 EUR / 1 hour
Additional reiki treatment 40 EUR / 1 hour
PRICES
| | | |
| --- | --- | --- |
| | Private double ensuite bathroom | Shared double ensuite bathroom |
| August 2023 (High season) | 1.899 EUR | 1.649 EUR |
| December 2023 (Low season) | 1.789 EUR | 1.619 EUR |
HOW TO GET HERE & WHEN:
You must arrive in Lombok on the first day of the retreat before 2PM.
You can fly to Lombok via Jakarta or you fly to Bali (Denpasar) first
– Jakarta – Lombok: 2 H flight duration / Bali – Lombok: 25 min flight duration
– Transfer from Airport in Lombok to Hotel: 25min
– Slow ferry from padang bai in Bali: between 5 – 8 hours cross over duration / goes every hour (you can take a bike or a car on the ferry as well) / Lembar Harbour in Lombok to Kuta Lombok Hotel: 1 Hour drive
– Fast boat from padang bai in Bali: 2 hours cross over duration / 3 times a day / Bangsal Harbour in Lombok to Kuta Lombok Hotel: 2 1/2 Hour drive
We usually use tiket.com to book domestic Indonesian flights. If you need help, please let me know. In case you want to use your own board, we suggest booking Garuda airways, as they include the transportation of the board in their price and are a very reliable airline. We recommend booking your flight at least 14 days in advance (domestic travel). If you want to stay longer than the 7 days and arrive prior to the retreat or stay longer, I'm also here to help with accommodation or any kind of logistics.
Limited Space, Reserve Your Spot Now!