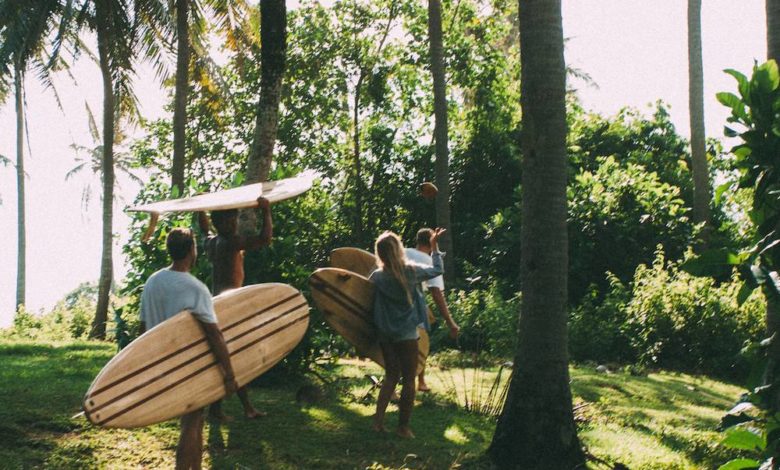 Where to shop for a surf-board in Bali?
Today's surfboard context
Most of the surfboards we use today are built with techniques developed back in the '50s, when the environment was less of a concern. Materials involved in the making are mostly derived from petroleum, particularly hard to recycle, shipped halfway around the world and virtually half of it all is lost during the process. Tobias demonstrated in his project, "The Surfboard Cradle-to-Grave", that surfboards life cycle is relatively short (380 hours of activity in the water for polyester, against 650 for epoxy). Although there is a lack of substantial statistics, Rick Lomax from SurfScience estimates the carbon footprint of one board ranging between 400 lb and 1000 lb of CO2e. And amongst the millions of them that have been made that way since, only an insignificant part is still being used today. Where goes the rest? Buried in landfills if not sitting in a garage or second-hand board rack.
It may seem ironical that our beloved pastime, though of as an inherently eco-minded subculture, is ultimately responsible for such a heavy environmental impact. But it is no surprise that the major surf industries follow the trends of consumerism by cultivating a high product turn over which is far from being sustainable.
Don't get me wrong, there are higher concerns related to our environmental impact for which we are all undeniably contributing to – travelling, meat consumption, the internet… I believe sustainability is about making our decisions part of a bigger picture more than sacrificing certain aspects. It is about asking ourselves what would be the consequences if everyone else in this world were living the same as we individually do. We can find a certain balance in our lifestyle which is different for each and everyone as one can occasionally fly to Indo but rides his bike to work everyday day.
The production of one surfboard alone can have a higher CO2 emission than flying 5000 miles.
For the matter at hand, I find interesting to put those previous numbers into perspective as the production of one surfboard alone can have a higher CO2 emission than flying 5000 miles. If there isn't yet a simple solution to surfboards unsustainable cycle, we can all make that choice to change our consuming habits by unstitching a whole range of false beliefs as to a relative correlation between performance and gears, for example. Many of us aren't into competitive surfing anyway and there is no doubt Kelly Slater would do wonderful things riding any surfboards we would tend to disregard for its shape, appearance or worn-out condition.
There lies many approaches of sustainability; some are great, some less, but we believe every little step away from standard consumerism is worth making. Here are a few tips to help you lower your impact and some places we know around Bali that fit the bill.
Second-hand surf-boards in Bali
It cannot be emphasised enough folks: Buying second-hand is the most efficient ways to extend any product life cycle. You skip the entire process of making a new board along the toxic materials and carbon emissions involved. You don't need to struggle to travel with your stuff and you can make good bargains if you are careful enough so you don't worry too much about damaging a brand new stick. Given the profusion of people who come and go in Bali, the second-hand market overflows with opportunities. You might just have to spend a little more time looking for the right one than in a regular shop, but mother nature will be thankful and you only risk meeting some cool people doing so.
Facebook users have an advantage here as the Bali Surfboards Buy and Sell group is a reference in that matter, but any local shop has a range of second-hand stuff on display.
Unique surf-shops in Bali
KAYU Surfboards
Kayu ("wood" in Indonesian) claims a more rooted vision of surfing by bringing back the traditional craftsmanship: They make surfboards of all types of shapes entirely out of balsa wood sourced in Indonesia (though the process still requires some glassing of course). For those unfamiliar with this material, Balsa Wood is known for having a remarkable light/strength ratio, a very high buoyancy property and its relatively fast growing rate, making it a particularly interesting material to work with in terms of performance and sustainability. What makes Kayu stands out is their holistic conception of sustainability by keeping local communities involved in every part of their activity and that is something we appreciate a lot at ISF.  With no other than Robi Hendra in the shaping bay (One of the first of the Balinese shaping scene alongside Budi Hantoro, Saeri and Sumi), no doubt as to the precision and quality of work put into these boards. All in all, Kayu ticks pretty much all the boxes of a good alternative shop we could think of. More info: https://kayusurfboards.com/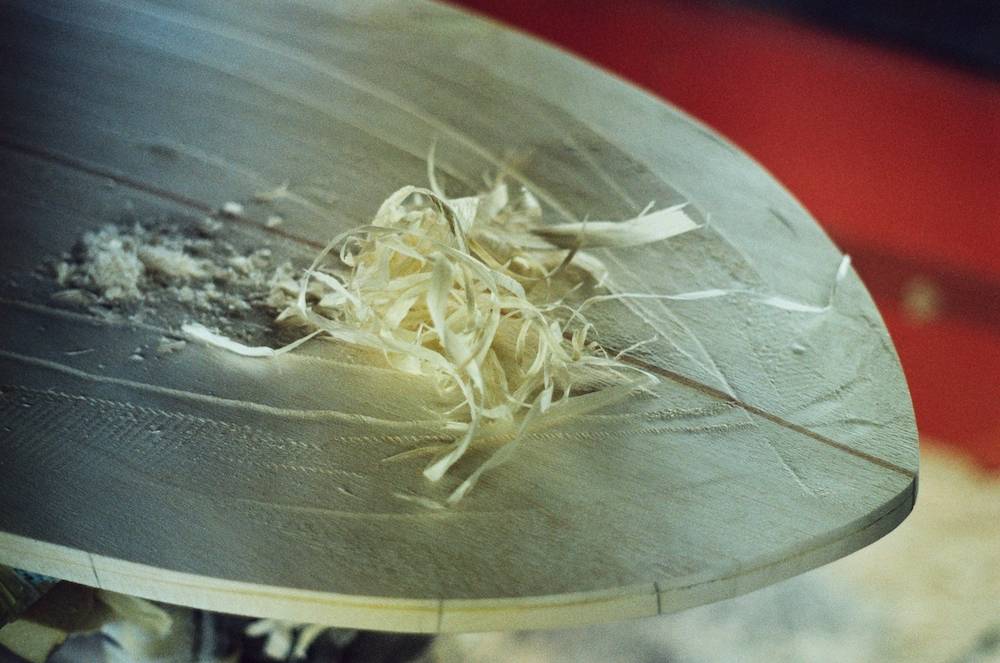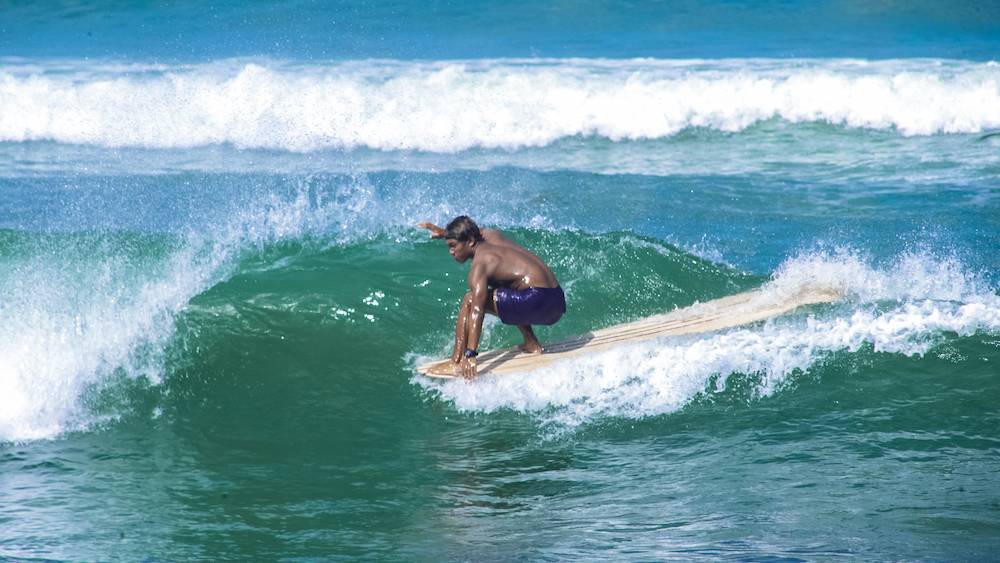 FOLKLORE
There are a number of shops striving to drive some positive change in this world; Folklore is one of them. Mar, its founder, shares a profound attachment to the authentic tradition of surfing and its inherent values. His philosophy of sustainability is firmly rooted in its commitment to keeping the balance between taking and giving back. In this way, every surfboard purchased at FLKLR contributes to helping provide access to clean water for people in need.
FLKLR makes their surfboards blanks without glue to make them more environmental and use organic pigments to colour their surfboards. The shop also offers sustainable goods and a clothing line made from recycled plastics.  Mar wishes to develop other partnerships in the future to ensure a proper business equilibrium. As indicated earlier, there are many ways to address the question of sustainability other than by using biosourced materials, Folkore is a prime example of companies sharing a two-way relationship with the people and the environment. More info: https://flklrsurf.com/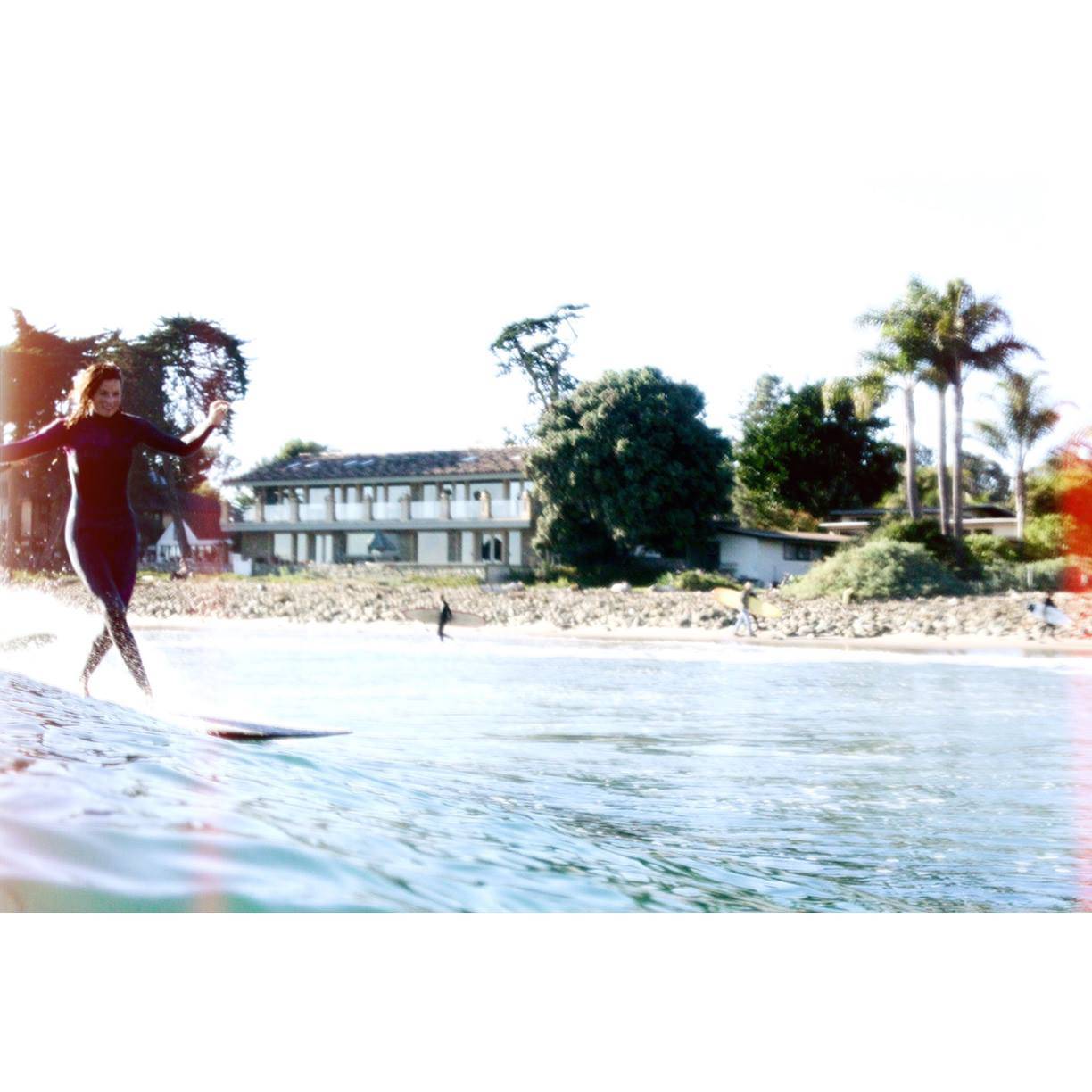 HAQI
Oddly enough, I was introduced to Haqi's work by a friend I met in El Salvador. He had a gorgeous set of fins displaying a balsa wood core through a transparent resin coating. A perfect piece of craftsmanship with a beautiful finish that immediately got me hooked. Haqi inherited his knowledge of working with resin from his father, who worked for a fibreglass company in Surabaya, and has been getting some guidance from none other than Kim Bradley himself before his passing away in 2009. Since his establishment in 2010, he developed other techniques using carbon and different shapes and is now offering a whole range of fins and taking custom orders at very interesting prices.  Surprisingly, the all-round quality of Haqi's product hasn't yet received the attention it merits, but he definitely deserves a place in this compendium as to a greener option for a fin setup. More info: https://www.hq-designs.com/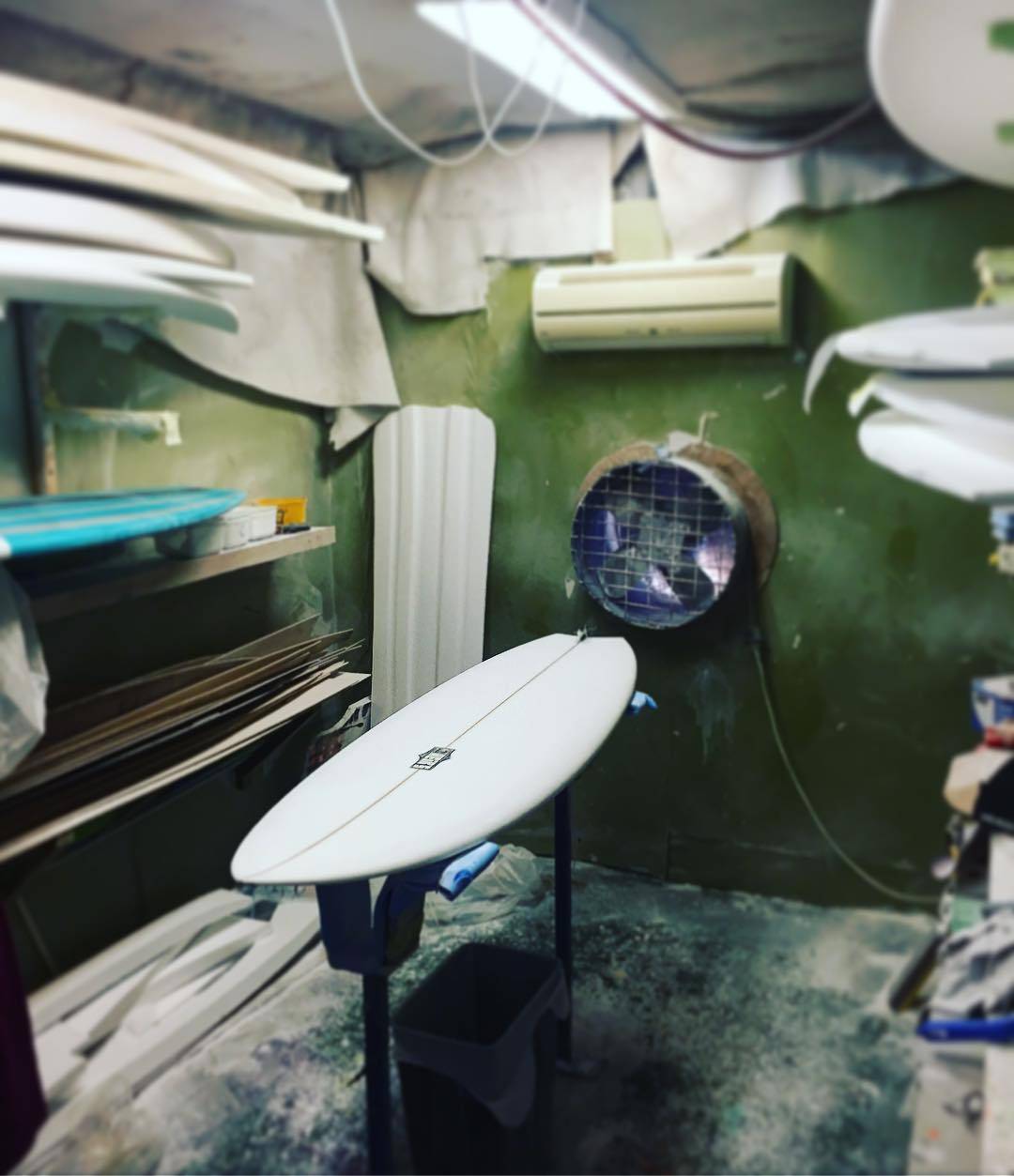 #ECO DESIGN LABEL
I have been gossiping about the industry a bit, though there is actually some movement from big brands towards greener processes.  In 2013 the SIMA (the Surf Industry Manufacturers Association, yes !) has endorsed the ECOBOARD Project which is an independent 3rd party "eco-label" for surfboards that certifies the sourcing of a list of sustainable materials substitutes for the resin and/or the core. It is comprised of two categories, Level One and Gold Level, which are displayed by a small logo on each board which meets the respective requirements.
As Schultz (2008) recommends, "Surfers wishing to purchase boards with a truly smaller environmental footprint should look to improvements in these materials (resin & core) are they are by far the largest contributors to the carbon footprint of a surfboard."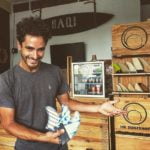 Do feel free to add in the comment sections other surf-shops and surfboard suppliers in Bali, that you think should be mentioned in this post. You can also email us to info@indosurfcrew.com