We guarantee you'll get the wave of your life on this trip. May that be a big barrel!
This surf-coaching trip is designed for the intermediate and advanced surfers who want to bring more flow, speed and power in their surfing. Video Coaching and Surf Coaching techniques are taught by Rodrigo Machado.
By the end of the 12-days, you will have radically improved your surfing and unlocked a new body awareness. Advanced surf techniques will become accessible to you, making you able to know exactly what to do just at reading the wave, and knowing how to do it.
This surfing program is designed for:
Intermediate
You've surfed enough to be hooked with surfing. You know how to take off, start doing turns and confident with your paddling. You want to improve your basic surf maneuvers and want to start learning more advanced maneuvers. You are fit enough to spend up to 4-hours surfing a day. You may also have been surfing for years but not consistently enough to see a progression and want to see a change in your surfing.
Advanced
You surf consistently since already few years. You look out for the good swells and occasionally know how to find barrels and throw a spray after a snap. You want to deepen your surf techniques to bring more flow and power in your surfing. You are ready to push your surf to the next level.
Tube Riders
You are comfortable in solid conditions (6ft+), not scared of hollow waves and late take offs. You want to improve your surf techniques, ride barrels, and perform more radical surf maneuvers. You are ready to push your surfing to the next level.
What to expect?
• Barreling world class waves, rights and lefts.
• Cruising aboard newly built catamaran, King Millenium 2, to bring us quick and comfortably to the spots.
• Radically improve your surfing
• Get epic waves, recorded on videos
• Learn from a World-Class surf coach, Rodrigo Machado.
Is this trip for you? 
We created this experience for surfers who usually have at least 5 years + of surfing, or 2 years of solid and consistent surfing (2 to 3 times a week).
You've been surfing consistently for the past 3-5 years, or more. You know that you are able to get the waves you are after, you are physically fit and have spent hours in the water. But still, it doesn't happen the way you wish it would.
Reef breaks are no stranger to you, you enjoy hollow waves and fantasise at seeing their almond shapes. At times, you even surprise yourself getting in a barrel, but it doesn't happen as often as you'd wish. You also enjoy long  and glassy 4-6 foot waves where you can smash turns.  You want to learn how to take off under the lip and find more speed to connect with the next section. You want to get more tubes and ride them better. Maybe, you also want to learn how to perform a round house cutback and vertical re-entry, that's also possible.You're actually just a step away from unlocking those manoeuvres.
If you are ready to bring your surfing to the next level, with more flow, power and techniques. And if you are ready to live aboard for 12 nights with like minded surfers from all over the World, all with a common passion for the Ocean and a strong willing to improve their surfing.  Then, this trip is for you.
Surfing in the Mentawais, in September
The month of September remains one of the most consistent for surfing in Indonesia. We could possibly enjoy up to 3-swells within 11-days, with average wave size ranging around 6 to 8 foot.
We will be aiming for more advanced waves like Rifles, Bank Vaults, Hollow Trees but surf a variety of waves depending on the swell, wind forecasts and the local knowledge of our captain.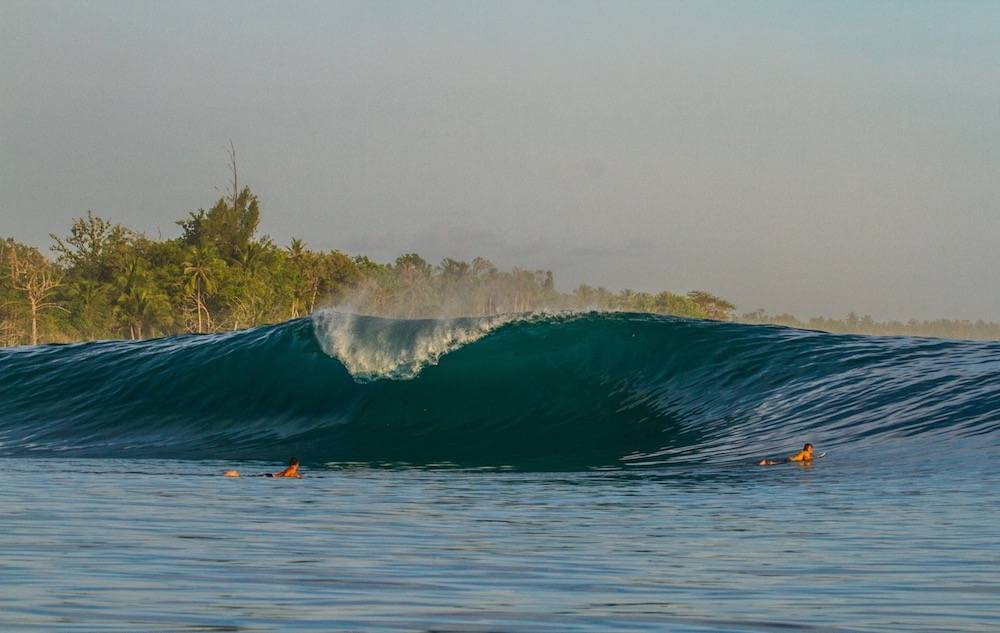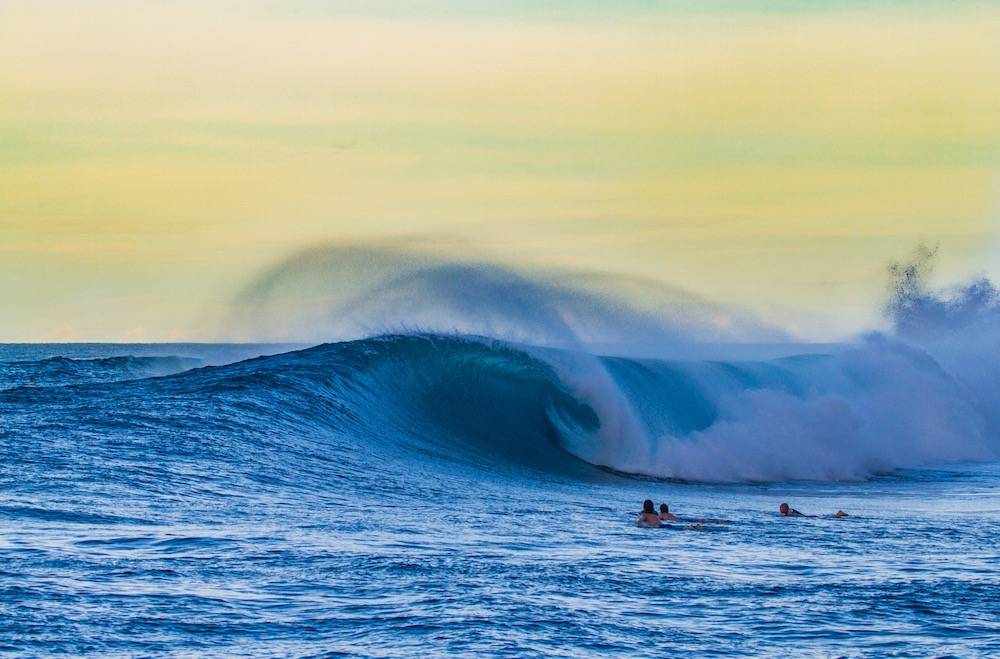 ---
Reserve Your Spot!
The Crew
Rodrigo Machado – Surf Coach and Founder of the Power Surf Training

Rodrigo is a Brazilian surfer and founder of the POWER SURF movement. Throughout his 20-years of surfing experience, he has deepened his teachings in the art of 'Surf Hacks' throughout 4 major pillars that are Physical, Technical, Tactical and Psychological. The POWER SURF is born from his practices of yoga and self-knowledge, the art of breathing and meditating, natural gymnastic and capoeira acrobatic movements. Rodrigo teaches surfers looking to perform better from intermediate to advanced levels of surfing. He now lives in the Bask Country, working as a surf-coach at Pukas Surf Eskola and also performs physical surf training at Hurley Surf Club.

Uriel – Ocean Cinematographer

Originally from the French Bask country, Uriel has been spending his past 5-years in Indonesia, "chasing waves and light". Traveling with the bare minimum you need to stay stoke: a camera, a surfboard and a yoga mat. His mission is to bring awareness to our Oceans and more consciousness to our planet, through creativity and art. And when waves are pumping, he'll be there sitting in the water waiting for you to exit the barrel.
Join Our Crew!
Accommodations
King Millenium 2
http://surfingmentawai.com/km2---ing.html
KING MILLENIUM 2
The second boat from the fleet started in the 2007 season. A modern catamarán built in Australia in 1995, and renovated in 2006, specifically designed to charter the Mentawai Islands searching for waves. A fast boat and confortable boat, it builds its vibe around the original boat but with world class service. All levels of surfers have enjoyed our vessel, from hungry pros looking for epic barrels, to underground surfers searching magic loneliness with Friends.
She is 19m long with a beam of 7.5m with an average cruising speed of 12 knots going up to 15 knots and carries 12 clients in 4 large cabins featuring independent TV, DVD and air conditioning.
The large living area features a large couch, a plasma screen and a home cinema system. There are several resting areas from where to enjoy the scenic views such as the deck lounge area and the bow. The two bathrooms and the kitchen and the living room areas are outdoors.
It has 3 double rooms and a 4 person room with air conditioning, ample single beds and individual cupboards. The top deck features a wide living room with dining table, comfy couches, air conditioning, TV, DVD and stereo. The kitchen is fully equipped and the bathroom is ample. There's also a nice lounge deck area from which to watch the waves. The boat also has a little auxiliary dinghy to ferry clients between the boat and the waves, to take pictures, etc.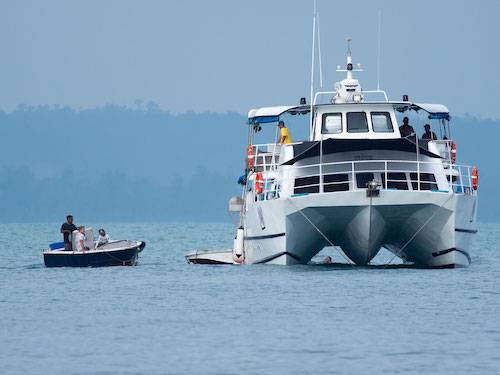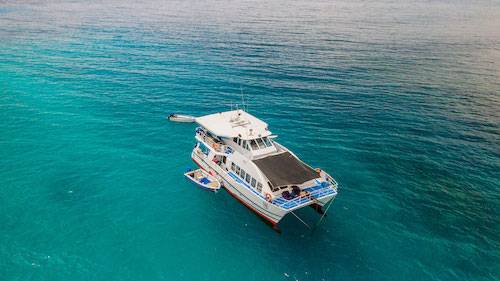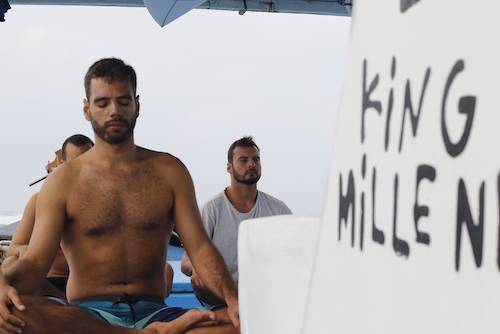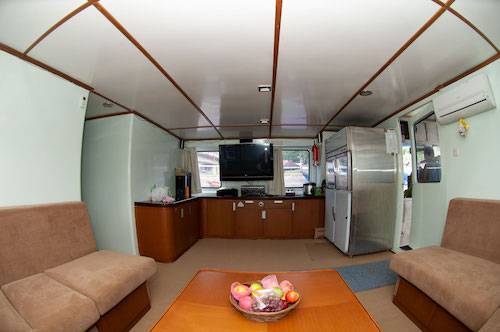 Secure Your Space
What's included ?
Dates & Itinerary
We will depart from Padang on the 1st of September at 20.00 PM – We will be surfing the next morning in the Mentawais'. We recommend arriving in Padang on the 1st before 4PM.
We will return in the night of the 12th and reach the harbour of Padang on the morning of the 13th of September. We recommend booking flights out of Padang after 10AM on the 13th.
You can easily find international flights from Kuala Lumpur and Singapore. Any questions? Ask us we are happy to help!
---
| | |
| --- | --- |
| Early Bird – before 31/12/19 | Regular Price |
| 3,800 US$ | 4,100 US$ |
Limited Space, Reserve Your Spot Now!